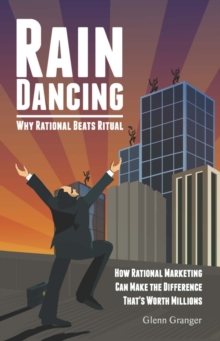 Raindancing : Why Rational Beats Ritual
Hardback
Description
This groundbreaking book launches a passionate crusade for 'rational marketing' - based on facts and data, rather than guesswork, traditions and raindancing.
Marketing without measurement is myth. "Until now," says Glenn Granger, "marketers have been flying blind.
Even the big brands that can afford to pay consultants for data modelling and forecasting are only getting snapshots, retrospectively, once or twice a year. And media costs are high, so the numbers can be huge.
Nowhere outside marketing are millions invested - or gambled - with so little analysis and scrutiny."How different would business be if powerful modelling tools that were as easy to use as spreadsheets or word processors could be there on every marketer's desktop?
What if these tools could help with everyday decisions, like whether to take up a media owner's last-minute 3-for-2 offer, and whether a price cut would be a great move or commercial suicide?
Bringing rational accountability to marketing is not about deskilling.
It is about giving the marketer a new power to fine tune campaign spending, defend budgets and predict the impact of specific initiatives. Glenn Granger draws on his own high-level consulting and business experience to make the case for this urgently-needed marketing revolution.
His upbeat, non-technical style makes Raindancing startling, vivid and vital reading for chief executives, finance directors, CMOs and everyone who works in marketing.
Information
Format: Hardback
Pages: 304 pages
Publisher: Troubador Publishing
Publication Date: 01/03/2013
Category: Sales & marketing management
ISBN: 9781780884851