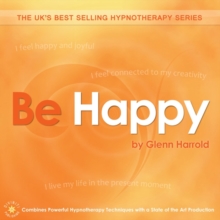 Description
Be Happy is a state-of-the-art production featuring Glenn Harrold's highly acclaimed hypnotherapy techniques.
The recording combines a powerful hypnosis session and a unique sound frequency, which is said to heal DNA, open your heart and induce feelings of peace.
This special combination make for an amazingly powerful recording.
The aim of Be Happy is to help you develop a lasting feeling of happiness by using hypnosis to help you connect to the divine, creative source within you.
You will be guided to find happiness by developing presence, living in the moment and subjugating your ego.
When you achieve this you will have a sense of mastery, which in turn will give you a powerful magnetism that will enable you to live a rich and fulfilling life.
The recording has been split into two tracks, the intro and the hypnotherapy session, so you can choose to skip the intro after the first listen if you wish.
Featuring: Glenn Harrold's calming voice guiding you into a completely relaxed state of mind & body.
Powerful hypnosis techniques, state of the art digital recording technology and a unique sound frequency, created by Ali Calderwood from Anima. Soothing background sounds recorded in specific musical keys and frequencies to deepen the relaxation effect.
Hypnotic echoed affirmations which pan from ear to ear across the stereo range - a deeply relaxing, unique effect.
Powerful subliminal suggestions under the fade out sound at the end of the recording. Glenn Harrold is a highly experienced clinical Hypnotherapist and best-selling author.
His hypnosis CD, MP3 Downloads and Apps have sold over 1,300,000 units worldwide.
Other Formats
eAudiobook MP3 from £7.67
Free Home Delivery
on all orders
Pick up orders
from local bookshops