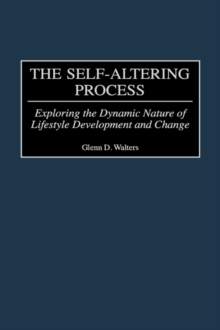 The Self-Altering Process : Exploring the Dynamic Nature of Lifestyle Development and Change
Hardback
Description
Walters sets forth an interactive model of lifestyle development, which is divided into three phases.
Initiation, the first phase of lifestyle development, is the point at which lifestyle-supporting belief systems evolve from interactions taking place between incentive (existential fear), opportunity (risk factors and learning experiences), and choice (decision-making).
Before a pattern becomes a lifestyle, it must proceed through a transitional phase in which lifestyle-promoting outcome expectancies are formed and lifestyle-congruent skills are learned.
This is followed by a third phase in which the lifestyle is maintained by additional incentive-opportunity-choice interactions. Before a person can exit a lifestyle he or she must proceed through a four-phase process in which the first phase (initiation) is to review life lessons and form attributions that temporarily arrest the lifestyle.
Once this is accomplished, the next step (transition) is to challenge lifestyle-supporting outcome expectancies and develop skills designed to build self-confidence.
The third phase of lifestyle change is to maintain the change by finding involvements, commitments, and identifications incompatible with the lifestyle.
This is followed by a fourth or change phase, the goal of which is to illustrate that change is an ongoing and never-ending process.
Each phase of change is directed by four core elements-responsibility, meaning, community and confidence-designed to foster change by tapping into a person's natural ability to self-organize.
Scholars, researchers, and practitioners involved with psychology, personality, and behavioral change will be particularly interested in this analysis.
Free Home Delivery
on all orders
Pick up orders
from local bookshops