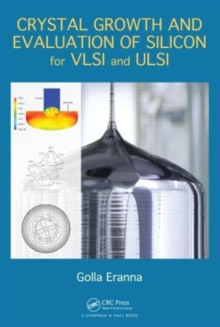 Crystal Growth and Evaluation of Silicon for VLSI and ULSI
Hardback
Description
Silicon, as a single-crystal semiconductor, has sparked a revolution in the field of electronics and touched nearly every field of science and technology.
Though available abundantly as silica and in various other forms in nature, silicon is difficult to separate from its chemical compounds because of its reactivity.
As a solid, silicon is chemically inert and stable, but growing it as a single crystal creates many technological challenges. Crystal Growth and Evaluation of Silicon for VLSI and ULSI is one of the first books to cover the systematic growth of silicon single crystals and the complete evaluation of silicon, from sand to useful wafers for device fabrication.
Written for engineers and researchers working in semiconductor fabrication industries, this practical text:Describes different techniques used to grow silicon single crystalsExplains how grown single-crystal ingots become a complete silicon wafer for integrated-circuit fabricationReviews different methods to evaluate silicon wafers to determine suitability for device applicationsAnalyzes silicon wafers in terms of resistivity and impurity concentration mappingExamines the effect of intentional and unintentional impuritiesExplores the defects found in regular silicon-crystal latticeDiscusses silicon wafer preparation for VLSI and ULSI processingCrystal Growth and Evaluation of Silicon for VLSI and ULSI is an essential reference for different approaches to the selection of the basic silicon-containing compound, separation of silicon as metallurgical-grade pure silicon, subsequent purification, single-crystal growth, and defects and evaluation of the deviations within the grown crystals.
Information
Format: Hardback
Pages: 430 pages, 23 Tables, black and white; 264 Illustrations, black and white
Publisher: Apple Academic Press Inc.
Publication Date: 08/12/2014
Category: Electronic devices & materials
ISBN: 9781482232813
Free Home Delivery
on all orders
Pick up orders
from local bookshops