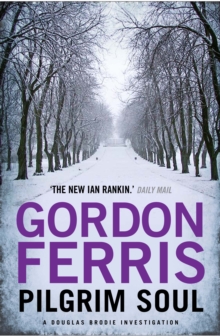 Description
It's 1947 and the worst winter in memory: Glasgow is buried in snow, killers stalk the streets - and Douglas Brodie's past is engulfing him.It starts small.
The Jewish community in Glasgow asks Douglas Brodie, ex-policeman turned journalist, to solve a series of burglaries.
The police don't care and Brodie needs the cash. Brodie solves the crime but the thief is found dead, butchered by the owner of the house he was robbing.
When the householder in turn is murdered, the whole community is in uproar - and Brodie's simple case of theft disintegrates into chaos.
Into the mayhem strides Danny McRae - Brodie's old sparring partner from when they policed Glasgow's mean streets.
Does Danny bring with him the seeds of redemption or retribution?
As the murder tally mounts, Brodie discovers tainted gold and a blood-stained trail back to the concentration camps.
Back to the horrors that haunt his dreams. Glasgow is overflowing with Jewish refugees. But have their persecutors pursued them? And who will be next to die?
Information
Format: Paperback
Pages: 416 pages
Publisher: Atlantic Books
Publication Date: 01/08/2013
Category: Crime & mystery
ISBN: 9780857897626
Free Home Delivery
on all orders
Pick up orders
from local bookshops
Reviews
Showing 1 - 1 of 1 reviews.
Review by Eyejaybee
16/06/2015
Gordon Ferris has emerged as a writer of engaging fiction over the last two or three years and has developed two principal protagonists, each featuring in their own series of novels set in the immeidate aftermath of the Second World War. "Truth, Dare, Kill" and "The Unquiet Heart" have featured Danny McRae, former Detective Sergeant from Glasgow CID, now relocated to post-War London where he is trying to make his way as a private detective. Meanwhile "The Hanging Shed" and "Bitter Water" have featured Douglas Brodie, also formerly of Glasgow CID and now working as a crime reporter on a leading local paper (could it possibly, by any chance be supposed to be "The Herald", I wonder!?), but also venturing into the world of private detection. In this gripping novel we learn that they had previously worked together and been friendly, and they are reunited.This novel is certainly gripping, even if it dwells on horrific aftermaths of the war. In January 1947, during a particularly bleak and cold winter, Brodie is commissioned to investigate a series of recent burglaries of the homes of Jewish families in and around Glasgow's run-down Gorbals area. It immediately becomes apparent that it is no coincidence that the victims are all Jewish; they are being deliberatly targeted. The local police seem scarcely interested, and Brodie decides to take the case on. Meanwhile, his barrister partner Samantha is called upon to assist the prosecution in the latest wave of trials of war criminals in Hamburg. We also learn that Brodie, during his war service, had been present at the liberation of some of the concentration camps, and had led the initial questioning of the Nazi war criminals responsible for the despicable acts perpetrated therein. Their two investigations become increasingly enmeshed as it emerges that one of the "rat lines" that assisted Nazi war criminals to escape justice was channeling them through Scotland. As a further complication, there is ferment within the Jewish community over the role of the British Army in, as they see it, delaying their access to the new state of Israel. The plot is grim but watertight, and the characterisation is compelling. Brodie is a likeable character, not least because he is flawed. he drinks too much, and he is occasionally incapable of reining in his temper. Passions are raised as vigilantes end up clashing with police.All in all a very enjoyable read.
Also in the Douglas Brodie Series series | View all