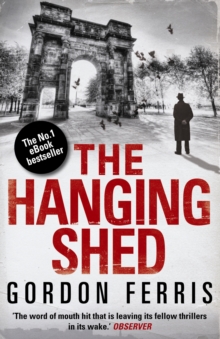 The Hanging Shed
Paperback
Description
Glasgow, 1946. The last time Douglas Brodie came home it was 1942 and he was a dashing young warrior in a kilt.
Now, the war is over but victory's wine has soured and Brodie's back in Scotland to try and save childhood friend Hugh Donovan from the gallows.Everyone thought Hugh was dead, shot down in the war.
Perhaps it would have been kinder if he had been killed.
The man who returns from the war is unrecognizable: mutilated, horribly burned.
Hugh keeps his own company, only venturing out for heroin to deaden the pain of his wounds.
When a local boy is found raped and murdered, there is only one suspect.Hugh claims he's innocent but a mountain of evidence says otherwise.
Despite the hideousness of the crime, ex-policeman Brodie feels compelled to try and help his one-time friend.
Working with advocate Samantha Campbell, Brodie trawls the mean streets of the Gorbals and the green hills of western Scotland in their search for the truth.
What they find is an unholy alliance of troublesome priests, corrupt coppers and Glasgow's deadliest razor gang, happy to slaughter to protect their dark and dirty secrets.
As time runs out for the condemned man, the murder tally of innocents starts to climb.
When Sam Campbell disappears, it's the last straw for Brodie, and he reverts to his wartime role as a trained killer.
It's them or him...
Information
Format: Paperback
Pages: 400 pages
Publisher: Atlantic Books
Publication Date: 01/09/2011
Category: Crime & mystery
ISBN: 9780857893642
Free Home Delivery
on all orders
Pick up orders
from local bookshops
Reviews
Showing 1 - 2 of 2 reviews.
Review by Eyejaybee
16/06/2015
An interesting, though perhaps slightly over-long novel, once again featuring recently de-mobbed Major Douglas Brodie, who is now living in London and scratching a living as a crime reporter following his service in the Second World Ward as a major in the Seaforth Highlanders.Before the war he had served as a Detective Sergeant in Glasgow's CID having chosen to stay on in the city after graduating from its university. He had, though, grown up in nearby Kilmarnock where his best friend from schooldays had been Hugh "Shug" Donovan. Donovan had been feared dead, lost in the wreckage of his R.A.F. bomber over the Channel. However, he had survived despite hideously disfiguring burns over most of his body, and he had ended up in Glasgow, wracked with nightmares and still suffering from his dreadful injuries.Indeed, so extreme were the after effects of his wounds that he had been driven to seek pain-relief in heroin. Meanwhile a murderer is stalking the back streets of Glasgow, abducting, torturing and then murdering young boys. Four lads had already gone missing when young Rory Hutcheson goes missing, The local residents join the police searching high and low for the young boy, but tragically only recover his nearly-naked corpse ... and then his blood-stained clothes are found in Hugh Donovan's flat.Having been tried, convicted and condemned to the death sentence Donovan contacts Brodie and asks him to help.As with his novel "Truth, Dare, Kill" Ferris generally manages his material well, though I felt that the closing scenes were unnecessarily prolonged. I will, however, look forward to his next novel
Review by smik
16/06/2015
The book begins strongly with a description of Barlinnie Prison in Glasgow. Douglas Brodie is hurtling through the night to Glasgow on the Royal Scot. It is April 1946 and he has had a phone call from a friend he thought had died in the war. The friend is in desperate trouble, convicted of murdering a young boy, and scheduled for the hanging shed.I warmed to Brodie straight away and I liked the way the author revealed his background little by little.I also liked the authentic feel of the setting. So much of the detail of like in post-war Glasgow rang true and had resonances for me.I also liked Gordon Ferris' style of writing. Here are some snippets I marked: I fondly inspected the building. There seemed to be no bomb damage, and the two statues stood proudly in their niches along the line of the parapet. Stepping inside to the solid carpentry and shining counter was like coming home. I told the librarian I was researching a book about the trial and wanted access to the newspapers for the period of the trial and one month either side. So from November 1945 through to today, 4 April 1946.and That got a laugh from her, and then she was as good as her word. A great plateful of powdered-egg omelette, black pudding and tattie scones was served up with a flourish. She must have used up her ration coupons for a week. She sat there sipping her own tea, elbows on the table watching me proprietorially as I devoured the lot. Toast was grilled and buttered for me. All I had to do was wash it down with the steady flow of life-giving tea.and It was a typical two-roomed house. Kitchen cum living room and good room beyond. The curtain was pulled across the bed in the wall in the living room. We sat at a tiny wooden table with a blue and white checked waxcloth covering. The place was heavy with smoke.So I was hooked almost from the beginning.THE HANGING SHED also establishes a partnership between Brodie and defence advocate Samantha Campbell and both characters come alive.
Also in the Douglas Brodie Series series | View all