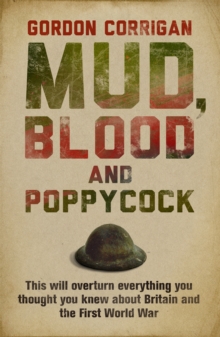 Mud, Blood and Poppycock : Britain and the Great War
Paperback
Description
The true story of how Britain won the First World War. The popular view of the First World War remains that of BLACKADDER: incompetent generals sending brave soldiers to their deaths.
Alan Clark quoted a German general's remark that the British soldiers were 'lions led by donkeys'.
But he made it up. Indeed, many established 'facts' about 1914-18 turn out to be myths woven in the 1960s by young historians on the make.
Gordon Corrigan's brilliant, witty history reveals how out of touch we have become with the soldiers of 1914-18.
They simply would not recognize the way their generation is depicted on TV or in Pat Barker's novels. Laced with dry humour, this will overturn everything you thought you knew about Britain and the First World War.
Gordon Corrigan reveals how the British embraced technology, and developed the weapons and tactics to break through the enemy trenches.
Information
Format: Paperback
Pages: 464 pages, 27, 9 maps
Publisher: Orion Publishing Co
Publication Date: 01/07/2004
Category: European history
ISBN: 9780304366590
Free Home Delivery
on all orders
Pick up orders
from local bookshops
Reviews
Showing 1 - 1 of 1 reviews.
Few revisionist histories have been so informative or well thought out at Mud, Blood and Poppycock by Gordon Corrigan. A former officer in the British Army, Corrigan in his book has taken to task many of the false and downright malicious lies that have been propegated into popular belief by men such as David Lloyd George and Basil Liddell Hart. According to Corrigan the British Army was not run by incompetants senselessly throwing men into impossible situations, not were soldiers doomed to weeks in the firing lines as attrition slowly whittled units to nothingness. The idea of a 'lost generation' is also throughly disbanded by Corrigan through a careful and judged amassment of facts and sources. Corrigan's heavy research into this field is readily apparent to anyone who reads Mud, Blood, and Poppycock. It also doesn't hurt that Corrigan does not shy away from littering his text with an incomparable amount of detailed charts and lists, often comparing these statistics with later conflicts.First World War historiography has managed to spend most of the last half century clawing its way out of the false convictions of bitter politicians and junior officers, and we can only hope more professional revisionists begin to look at the First World War.