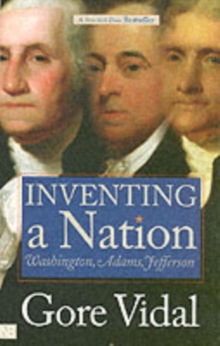 Inventing a Nation : Washington, Adams, Jefferson
Paperback
Description
Gore Vidal, one of the master stylists of American literature and one of the most acute observers of American life and history, turns his immense literary and historiographic talent to a portrait of the formidable trio of George Washington, John Adams, and Thomas Jefferson.
In Inventing a Nation, Vidal transports the reader into the minds, the living rooms (and bedrooms), the convention halls, and the salons of Washington, Jefferson, Adams, and others.
We come to know these men, through Vidal's splendid and percipient prose, in ways we have not up to now-their opinions of each other, their worries about money, their concerns about creating a viable democracy.
Vidal brings them to life at the key moments of decision in the birthing of our nation.
He also illuminates the force and weight of the documents they wrote, the speeches they delivered, and the institutions of government by which we still live.
More than two centuries later, America is still largely governed by the ideas championed by this triumvirate. "Pure Vidal...Inventing a Nation is his edgy tribute to the way we were before the fall."-Los Angeles Times Book Review "[Vidal offers] details that enliven and ...reflections on the past that point sharply to today. " -Richard Eder, New York Times "An engaging [and] ...unblinking view of our national heroes by one who cherishes them, warts and all."-Edmund S.
Morgan, New York Review of Books "[Vidal's] quick wit flickers over the canonical tale of our republic's founding, turning it into a dark and deliciously nuanced comedy of men, manners, and ideas."-Amanda Heller, Boston Sunday Globe "This entertaining and enlightening reappraisal of the Founders is a must for buffs of American civilization and its discontents."-Booklist "Gore Vidal ...still understands American history backwards and forwards as few writers ever have."-David Kipen, National Public Radio
Information
Format: Paperback
Pages: 208 pages
Publisher: Yale University Press
Publication Date: 11/08/2004
Category: History of the Americas
ISBN: 9780300105926
Free Home Delivery
on all orders
Pick up orders
from local bookshops
Reviews
Showing 1 - 3 of 3 reviews.
Review by barriesegall
16/06/2015
Writtern in Gore's irreverant and sarcastic tone, it integrates the history of our nation with comments on the contemporary scene
Review by tututhefirst
16/06/2015
If you've read any biographies of the 1st three presidents, this book will actually be boring, unless you are a great fan of Gore Vidal's snarky 'insights.' I didn't learn anything new, and found myself constantly asking "What's the point?" A quick read for those who want only an overview of these three founders, and who don't mind editorial comments mixed in with their 'history.'
Review by ecw0647
16/06/2015
If you enjoy your history with a partisan flavor and a good dose of skepticism, you will immensely enjoy Inventing A Nation, Gore Vidal's romp through early American history. Gore begins with 1786 as Washington prepares to lead the constitutional convention. <br/><br/>It's refreshing to go beyond the glowing myths we are fed in high school and see the great men with all their foibles, flaws that somehow make them even a little greater in my estimation. There was a lot of groping going on to find just the right mix. Democracy did not have much in the way of precedence. After the Athenian defeat by Alexander, there was really no democratic example to follow. <br/><br/>Ours is certainly not a democracy in the Athenian sense as Gore, in his inimitable manner makes clear: "Much of the significance of December 2000 was that the Electoral College, created to ensure that majority rule be thwarted if unacceptable to what Hamilton thought of as the proper governing elite, threw a bright spotlight on just how undemocratic our republic has become, causing one of the Supreme Court Justices (by many thought to be a visiting alien) to respond to the Gore lawyers who maintained that Florida's skewed voting machines and confused rulings by various interested courts had deprived thousands of Floridians of their vote for president. The American Constitution, said the Justice, mandibles clattering joyously, does not provide any American citizen the right to vote for president. This is absolutely true. One votes for a near-anonymous member of the Electoral College, which explains why so few Americans now bother to 'vote' for president. But then a majority don't know what the Electoral College is." <br/><br/>That's classic.
Also in the Icons of America series | View all