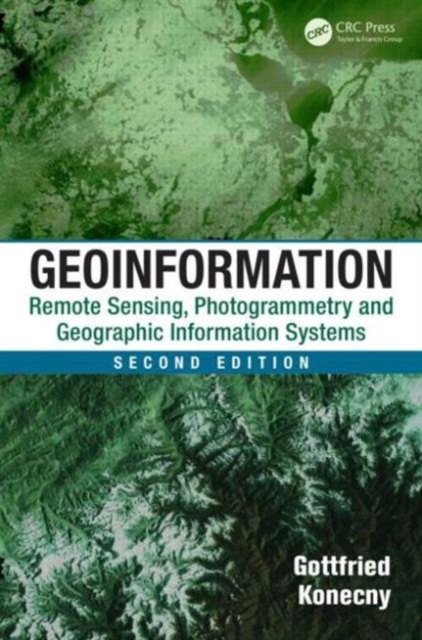 Geoinformation : Remote Sensing, Photogrammetry and Geographic Information Systems, Second Edition
Description
Written by a renowned expert, Geoinformation: Remote Sensing, Photogrammetry and Geographic Information Systems, Second Edition gives you an overarching view of how remote sensing, photogrammetry, and geographic information systems work together in an interdisciplinary manner.
The book presents the required basic background of the geoinformatics concept in which the different methodologies must be combined.
It details the principal components of remote sensing, from theoretical principles to advanced image analysis and interpretation techniques, sensor components, and operating platforms. New and Updated in the Second Edition: Web-based image viewing with Google EarthAerial platformsExisting digital photogrammetric software systems, including Intergraph image station, Autodesk, and Oracle SpatialLand management and cadasterImaging sensors such as laser scanning, image spectrometry, radar imaging, and radar interferometryWith the advent of high-resolution satellite systems in stereo, the theory of analytical photogrammetry restituting 2D image information into 3D is of increasing importance, merging the remote sensing approach with that of photogrammetry.
This text describes the fundamentals of these approaches in detail, with an emphasis on global, regional, and local applications.
It provides a short introduction to the GPS satellite positioning system in the context of data integration.
An extensive overview of the basic elements of GIS technologies and data management approaches, as well as the widely employed positioning systems such as GPS and GSM networks, complete the presentation of the technological framework for geoinformation.
Appropriate for GIS courses at all levels, the book proceeds beyond the science and technology to tackle cost considerations and practical implementation issues, giving you a starting point for multidisciplinary new activities and services in the future.
Information
Format:
Pages:472 pages, 17 Tables, black and white; 438 Illustrations, color
Publisher:Taylor & Francis Inc
Publication Date:23/04/2014
Category:
ISBN:9781420068566
Information
Format:
Pages:472 pages, 17 Tables, black and white; 438 Illustrations, color
Publisher:Taylor & Francis Inc
Publication Date:23/04/2014
Category:
ISBN:9781420068566