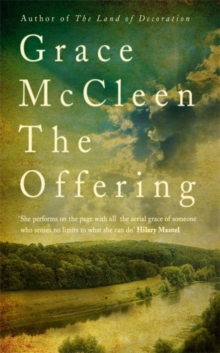 Description
I thought it began the day Father came home without work.
Then I thought perhaps it really began the day we arrived at the farm, rumbled up the track, opened the gate and stood looking around as if we had found ourselves in some enchanted land ...Something happened on Madeline's fourteenth birthday, something so traumatic that it triggered her mental breakdown.
Many years later, she still can't - or perhaps won't - recall the events of that night. A charismatic new psychiatrist, Dr Lucas, believes he can unlock Madeline's memory by taking her step by step through the preceding year, when her father moved the family to an island he was certain God had guided them to. Money was short, her mother often unwell and her father a volatile presence.
Yet Madeline loved their rural idyll, sensing God in every blade of grass; and when things started to go wrong, she thought she knew how to put them right.
But as Dr Lucas unearths the past, it becomes apparent that she was seriously misguided - and that he is treading on very dangerous ground. Lyrically evoking the rhythms and beauty of the natural world, The Offering is a novel taut with foreboding, a haunting tale of misplaced faith and a heartbreakingly damaged psyche.
Information
Format: Hardback
Pages: 272 pages
Publisher: Hodder & Stoughton General Division
Publication Date: 15/01/2015
ISBN: 9781444769999
Other Formats
Paperback from £7.05
EPUB from £5.99
Free Home Delivery
on all orders
Pick up orders
from local bookshops
Reviews
Showing 1 - 1 of 1 reviews.
Review by pgchuis
16/06/2015
The story of Madeline, who has been a patient at a mental health facility for 20 years, since she was 14. She has no memories of the hours leading up to her "breakdown", and the new doctor, Dr Lucas, diagnoses dissociative amnesia and uses hypnotherapy and later drugs to recover those memories. The novel shifts continually between the infirmary in the present day and a twelve month period leading up to the crisis, during which Madeline and her parents move to "the island" to evangelise its inhabitants, buy a farm and struggle generally.On the plus side: beautiful writing, although there were constant (too many?) references to light and nature/creation. I found the parallel time frames worked well - switching from one place of misery to a different one every chapter or so was a relief in a strange way.But... while "The Professor of Poetry" is one of my favourite books, I really didn't like this one. The 13 year old Madeline seemed wrong for her age somehow - her mother was angry with her for crossing the road alone on a small island after they had moved from a city...? She seemed naive for her age in a way that homeschooled children I suppose can be, but she only stopped going to school when the family moved to the island. Then she was hospitalized and seems to have existed in a more or less hazy state for 20 years, but somehow has acquired a knowledge of medieval mystics and an at times clear-sighted, cynical view on life - I thought she slept all the time and barely got out of bed??I find it hard to accept Dr Lucas could have been so cavalier with the new treatments he imposed on his patients and that there was no oversight of his "care" of them. Madeline and her parents seem to exist completely in isolation - didn't any aunts, uncles or cousins or public health nurses or overseers of homeschooled children ever check up on them? I know that Madeline describes (in her older world-weary voice) her father's particular theology as unique to him, but I didn't find it very convincing. There was a lot of mental ill-health here and not so much belief/religion. They never went to church and now and then they would go out preaching as if the author felt a need to remind us of how devout they were, but for chapters at a time Madeline just did her thing and communed with God in nature and, although there were the bible readings every evening it never seemed to me that her father's heart was really in it.The ending was sickening; not so much the big reveal of the cause of Madeline's amnesia, but the fate of Dr Lucas and the adult Madeline. Sickening and also a bit melodramatic and unlikely and then very very sad. However, scope for one last "light" reference.