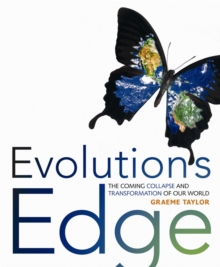 Evolution's Edge : The Coming Collapse and Transformation of Our World
Paperback / softback
Description
Gold-winner in the "Most Likely to Save the Planet" category of the Independent Publisher Book Awards (IPPY). "This brilliant book is a big-picture synthesis of the new curriculum for activists, educators, social and systems entrepreneurs, planners, and "community organizers" at all levels.
Evolution's Edge is vital reading for activists, educators, progressive thinkers, and anyone concerned about the state of our world.
A visually pleasing book, its generous use of graphs and charts make clear concepts such as our evolutionary footprint, projected climate change impacts, world populations and economic growth." - Kolin Lymworth, The Vancouver Observer "Evolution's Edge is simply outstanding - easy to read, inspiring, thoughtful.
Its ability to integrate environmental challenges with spritiual issues, technological possibilites and systems evolutionary theory is fantastic. - Sohail Inayatullah, eidtor, Journal of Future Studies It is now five minutes to midnight on the doomsday clock, reflecting the fact that we are closer to assuring the obliteration of our species than we have been at any time since the early eighties. We are rapidly approaching a tipping point, where we will either transform our violent, exploitative global system into a peaceful, cooperative one, or enter a catastrophic decline. Evolution's Edge shows that limitless economic expansion is impossible on a finite planet.
Our growth-based global system will collapse as critical resources become scarce and major ecosystems fail.
However, new ideas, values, and technologies can help us avoid disaster and create a better world. Using evolutionary systems theory, Evolution's Edge explains how societies evolve and why rapid, nonlinear change is not only possible but inevitable.
It describes: * Collapse-how cascading crises will soon provoke system failure * Transformation-how emerging technologies, ideas, values, and social organizations are supporting the evolution of a sustainable system * Analysis-how societies evolve into increasingly complex and conscious systems * Action-how a common, cooperative vision can accelerate constructive global change Evolution's Edge is a practical guide to a sustainable future and is vital reading for activists, educators, progressive thinkers, and anyone concerned about the state of our world. Graeme Taylor is a social activist committed to constructive global transformation and the coordinator of BEST Futures, a project supporting sustainable solutions through researching how societies change and evolve.
Information
Format: Paperback / softback
Pages: 320 pages
Publisher: New Society Publishers
Publication Date: 01/07/2008
Category: Sustainability
ISBN: 9780865716087