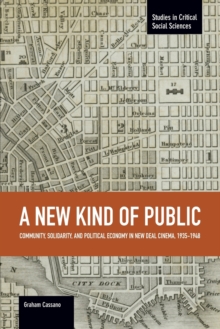 New Kind Of Public, A: Community, Solidarity, And Political Economy In New Deal Cinema, 1935-1948 : Studies in Critical Social Sciences, Volume 69
Paperback / softback
Description
In 1936, director John Ford claimed to be making movies for 'a new kind of public' that wanted more honest pictures.
Cassano argues that this new kind of public was forged in the fires of class struggle and economic calamity.
Those struggles appeared in Hollywood productions, as the movies themselves tried to explain the causes and consequence of the Great Depression.
Using the tools of critical Marxism and cultural theory, Cassano surveys Hollywood's political economic explanations and finds a field of symbolic struggle between the classes.
Information
Format: Paperback / softback
Pages: 220 pages
Publisher: Haymarket Books
Publication Date: 15/03/2016
Category: Film theory & criticism
ISBN: 9781608464937