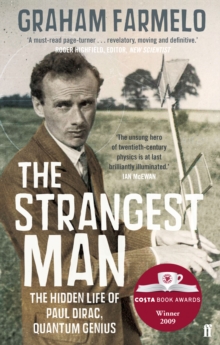 The Strangest Man : The Hidden Life of Paul Dirac, Quantum Genius
Paperback
Description
"A monumental achievement - one of the great scientific biographies." (Michael Frayn).
The Strangest Man is the Costa Biography Award-winning account of Paul Dirac, the famous physicist sometimes called the British Einstein.
He was one of the leading pioneers of the greatest revolution in twentieth-century science: quantum mechanics.
The youngest theoretician ever to win the Nobel Prize for Physics, he was also pathologically reticent, strangely literal-minded and legendarily unable to communicate or empathize.
Through his greatest period of productivity, his postcards home contained only remarks about the weather. Based on a previously undiscovered archive of family papers, Graham Farmelo celebrates Dirac's massive scientific achievement while drawing a compassionate portrait of his life and work.
Farmelo shows a man who, while hopelessly socially inept, could manage to love and sustain close friendship.
The Strangest Man is an extraordinary and moving human story, as well as a study of one of the most exciting times in scientific history. "A wonderful book...Moving, sometimes comic, sometimes infinitely sad, and goes to the roots of what we mean by truth in science."(Lord Waldegrave, Daily Telegraph).
Information
Format: Paperback
Pages: 576 pages
Publisher: Faber & Faber
Publication Date: 24/12/2009
ISBN: 9780571222865
Free Home Delivery
on all orders
Pick up orders
from local bookshops
Reviews
Showing 1 - 2 of 2 reviews.
Review by psiloiordinary
16/06/2015
The title says a lot. He was pretty odd, in a distant but ultimately very human way.You may feel sympathy, frustration, even despair for him while reading this. Although in the end he raised a family and led a successful life by anyone's standards.The science is put very simply and there wasn't enough of it for my tastes, but you probably know by know that I have more appetite for it than most.Well written, with a sense of humanity that the subject would perhaps only be puzzled by. I would like to hear what Dirac thought of the book but of course we will never know. Doesn't shy away from areas of family dispute and seems to present all sides without judging.Once again this narrative speaks to the contingent nature of our lives, change a little something here or there and what would Dirac have made of his life?Overall satisfying and well worth a read.
Review by Eyejaybee
16/06/2015
An absorbing biography of Paul Dirac, feted as Britain's finest physicist of the twentieth century. Dirac represented the epitome of the stereotypical dysfunctional scientist, generally only offering monosyllabic replies to any questions, and seldom if ever initiating a conversation himself. There is considerable evidence to suggest his inability to relate to companions may have arisen from the psychological abuse to which he was subjected by his equally dysfunctional father, a celebrated teacher of modern foreign languages in Edwardian Bristol.However, there was never any doubting Dirac's fantastic ability as a theoretical physicist, and he was lucky to come into his own in what proved to be a golden age for theroretical physicists as the likes o Einstein, Heisenberg, Rutherford and Schroedinger were all falling over each other to post the latest discovery.Dirac certainly reaped a fine crop of rewards, including appointment to the Lucasian Chair of Physics in the University of Cambridge (a post formerly held by Sir Isaac Newton) and a share in the 1933 Nobel Prize for Physics at the unprecedentedly young age of just 32.Farmelo captures all this with admirable clarity, and is sufficiently comfortable with the science to be able to convey it in an accessible form for the lay reader (among whom i am definitely numbered!). I had worried that it might all quickly become rather too obscure for my feeble understanding of physics but I was reassured never to feel too woefully out of my depth. Quantum Physics without tears!