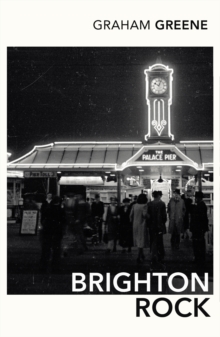 Description
WITH AN INTRODUCTION BY J.M. COETZEEA gang war is raging through the dark underworld of Brighton.
Seventeen-year-old Pinkie, malign and ruthless, has killed a man.
Believing he can escape retribution, he is unprepared for the courageous, life-embracing Ida Arnold.
Greene's gripping thriller, exposes a world of loneliness and fear, of life lived on the 'dangerous edge of things'.
Information
Format: Paperback
Pages: 288 pages
Publisher: Vintage Publishing
Publication Date: 07/10/2004
Category: Classic fiction (pre c 1945)
ISBN: 9780099478478
Other Formats
Paperback from £14.99
Hardback from £7.39
from £6.45
EPUB from £4.99
Paperback / softback from £19.19
eAudiobook MP3 from £16.76
Free Home Delivery
on all orders
Pick up orders
from local bookshops
Reviews
Showing 1 - 5 of 10 reviews.
Previous | Next
Review by wunderkind
16/06/2015
When I first read this, I thought it was good but not great, that it would be forgettable and not one of my favorite Greene novels. Now, about a year later, I realize that it really made an impression on me--the book is very atmospheric and has a particular mood that really imprints on your memory (or at least it did on mine). Thinking back on it, I feel like I really knew that characters, almost like I was actually there. I don't know that it's my favorite of Greene's works, but it was definitely the most powerful.
Review by nigeyb
16/06/2015
I have not read any Graham Greene for at least 10 years - it could be 20 years. I read a lot in my teens and early 20s. I know Brighton and Hove very well - and currently live in Hove. So for these reasons I was very interested to re-read Brighton Rock. I have just finished this book and I was gripped from the word go. On one level it's a good old fashioned gangster yarn which tells the story of the gradual disintegration of Pinkie - a teenage gangster - and his world. After killing a couple of people he becomes increasingly paranoid and destabilised. There is another layer to this book. Pinkie is a Catholic (or "Roman" as he calls it) and he is pursued by an atheist avenging character called Ida. This contrast gives the book an added dimension. The Catholic view of sin and morality versus a non-religious moral sensibility. What really stands out about this book is the quality of the writing. Graham Greene created a gripping tale; evokes the pre-WW 2 era beautifully; evokes a strong sense of pre-war Brighton; and overlays it all with philosophical musings. A classic.
Review by whirled
16/06/2015
I count myself fortunate that <i>Brighton Rock</i> was not the first Graham Greene novel I read because I <i>really</i> didn't like the story or the characters. I'd rate it even lower if it wasn't for the quality of the writing itself. For me, the biggest flaw was that Rose's unquestioning devotion to cruel-hearted Pinkie is never really explained. Also, as a former Anglican turned atheist, I found Greene's focus on the perils of Catholic morality tiresome. I guess I just like Greene's 'stranger in a strange land' stories better.
Review by Ayling
16/06/2015
I had an old, old ropey book of Brighton Rock and I thought I better read it before it fell apart. Well, it was the 1970-something edition and it had a dead fly more or less imprinted into one of the yellowing pages. It must have been at least 30 years old... you certainly don't expect to find fossils in books now do you?Anyway, I loved Greene's style of writing. I really must get on and read The Quiet American (same year of publication, minus fly.)Unfortunately I had to throw the book out - as in the bin. It was falling to bits in my hand and with the dead fly I don't think anyone much would have wanted it.
Review by Figgles
16/06/2015
Dark, much more depth than either film version. Can be read as a straight thriller but there's much more going on, a battle between warmth, right and good and cold, wrong and evil... Although it's often described as a Catholic book, you don't need to be a Catholic to read it. Just goes to show that "the horror, the horror" of the Heart of Darkness is not only found in foreign jungles. Highly recommended.