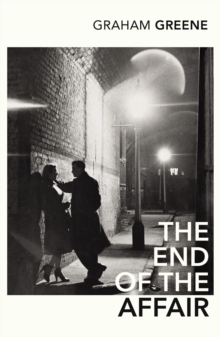 The End of the Affair
Paperback
Description
WITH AN INTRODUCTION BY MONICA ALIThe love affair between Maurice Bendrix and Sarah, flourishing in the turbulent times of the London Blitz, ends when she suddenly and without explanation breaks it off.
After a chance meeting rekindles his love and jealousy two years later, Bendrix hires a private detective to follow Sarah, and slowly his love for her turns into an obsession.
Information
Format: Paperback
Pages: 192 pages
Publisher: Vintage Publishing
Publication Date: 07/10/2004
ISBN: 9780099478447
Other Formats
Paperback from £9.99
EPUB from £4.99
Free Home Delivery
on all orders
Pick up orders
from local bookshops
Reviews
Showing 1 - 5 of 20 reviews.
Previous | Next
Review by bookworm12
16/06/2015
Author Maurice Bendrix narrates the story of his affair with a married woman named Sarah. It's a story of jealousy and hate, mixed with passion and heartbreak. Sarah mysteriously ends the affair one day during a blitz on London. Maurice is convinced that she has found a new lover. Her husband Henry is also worried about her and not knowing of their affair, he recruits Maurice to help him figure out what's wrong with his wife. This was the first Graham Greene book I've ever read. There something delicious about the way he writes. He finds ways to express common feelings in extraordinary ways. He also turned emotions that could make you hate a character, like jealousy or piety, into something relatable. I'm excited to pick up another book by him. In the end the story is really a question of faith. The main characters are forced to face the belief or lack of belief in God. I heard one person describe this book as "Henry, his wife, her lover and God," and that's exactly it. It's about those four characters and how they each relate to each other. "If we had not been taught how to interpret the story of the Passion, would we have been able to say from their actions alone whether it was the jealous Judas or the cowardly Peter who loved Christ?" "Sometimes I see myself reflected too closely in other men for comfort, and then I have an enormous wish to believe in the saints, in heroic virtue."
Review by roblong
16/06/2015
A wonderful novel, my favourite of Greene's. It does have its flaws (Parkis, in particular, doesn't really ring true), but the intensity of the affair and the intrusion of the possibility of God into it are handled with the power and sincerity of a man who had been through these things himself – as Greene had. Sarah, torn between Catholicism and the "ordinary, corrupt human love" she has – and prefers – with Bendrix, is complimented perfectly by his bubbling resentment and hatred (or, at least, what he wants to be hatred) for how life has turned against him.
Review by dom20
16/06/2015
First book by Greene that I have read - I live near where most of the story is set - so it had added interest. I read the book on holiday and it was a wonderfully written insight into the human spirit, but also a moving story, where you really become engaged with the story and its characters. I will certainly be reading more of Greene
Review by Banoo
16/06/2015
Bendrix loves Sarah. Bendrix hates Sarah. Sarah loves Bendrix. Sarah is married but doesn't love Henry. Sarah thinks she believes in God. Sarah loves God. Sarah Hates God. Sarah loves God. Bendrix doesn't believe in God. But Bendrix hates God. Bendrix Hates Henry. Bendrix thinks maybe there is a God. Bendrix hates himself. Bendrix hates Smythe. Bendrix loves Sarah...That is the story in a nutshell. I found this book tedious and it started trying my patience. I didn't like any of the characters in the book. They were all stupid and pathetic except for Sylvia Black but she only made a cameo appearance for a couple of pages. Brian loved those few pages.Brian loved Sylvia Black. Brian hated Bendrix. Brian hated Sarah. Brian hated Henry. Brian hated Smythe. Brian hated Parkis. Brian liked Parkis.Greene is a masterful writer. The craft is all there nice and shiny, word after word. The question, 'Is there a God?', was the common thread throughout the book as was the thin line separating love from hate. This book just didn't connect much with me. Brian likes Greene. Brian didn't like <i>The End of the Affair</i>.
Review by eas311
16/06/2015
I saw the movie first. Still loved the book though. Lord it's sad.