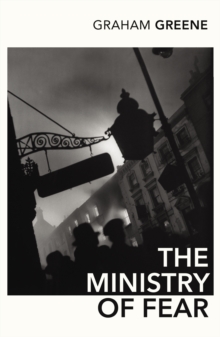 The Ministry Of Fear
Paperback
Description
For Arthur Rowe the charity fete was a trip back to childhood, to innocence, a welcome chance to escape the terror of the Blitz, to forget twenty years of his past and a murder.
Then he guesses the weight of the cake, and from that moment on he's a hunted man, the target of shadowy killers, on the run and struggling to remember and to find the truth.
Information
Format: Paperback
Pages: 224 pages
Publisher: Vintage Publishing
Publication Date: 05/07/2001
ISBN: 9780099286189
Other Formats
Hardback from £7.39
EPUB from £4.99
Free Home Delivery
on all orders
Pick up orders
from local bookshops
Reviews
Showing 1 - 2 of 2 reviews.
Review by Banoo
16/06/2015
This was my first Graham Greene and I liked it. It was one of his <i>entertainments</i>. WWII, London's getting bombed, Rowe wins a cake, people are not who they seem and then they are, and I craved cake but not the fruity kind. It's a book of identity... lost identity, made-up identities, mistaken identities... and the fear of learning the true identity.I liked the London night scenes with the sound of bombs dropping, and then that second of stillness before the 'boom' and the ground shaking... and people, weary, trembling or standing on corners mumbling or turning pasty gray while scuttling down a deserted street, or lost and confused in a public bathroom... Those scenes scared me. I'm pretty sure I would have been living underground all day and night. I liked the way the city changed overnight with buildings disappearing, streets closed, phones that no longer rang when dialed... It was surreal but real. It was nightmarish. I thought those scenes were the best part of the book.<i>'Is life really like this?' Rowe asked. Mr Prentice leant forward with an interested air, as though he were always ready to abandon the particular in favour of the general argument. He said, 'This is life, so I suppose one can say it's like life.''It isn't how I had imagined it.' Rowe said.</i>I bought a bunch of Greene at a book fair... I'm glad I did. This was a fun little ride.
Review by nigeyb
16/06/2015
A perfect book: accessible, clever, beautifully written, evocative, tense, and quietly profound. A palpable sense of dread and unease runs throughout the story set in the early years of World War 2 in England, primarily London.On one level the book is a simple story of espionage, fifth columnists, and a hapless man who gets caught up in things he does not understand however there is far more to it than that. The story, which starts at a sinister fete, and rattles along from the word go, also muses on innocence, patriotism, self-delusion, psychology, memory, complexity, love, deceit and heroism.