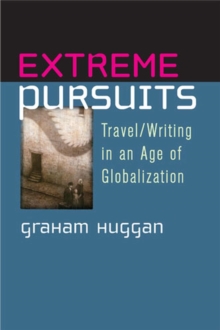 Extreme Pursuits : Travel/writing in an Age of Globalization
Paperback / softback
Description
This book takes a provocative look at travel - both voluntary and otherwise - in an uncertain world. ""Extreme Pursuits"" looks at the new conditions of global travel; at the unease, even paranoia, that underlies them; at the opportunities they offer for alternative identities; and at their oscillation between remembered and anticipated states.
Graham Huggan offers a provocative account of what is happening to travel in the age of globalization, a time characterized by extremes of social and political instability in which adrenaline-filled travelers appear correspondingly determined to take risks.
It includes discussions of the links between tourism and terrorism, of contemporary modes of disaster tourism, and of the writing that derives from these, but it also confirms the existence of more responsible forms of travel/writing that demonstrate awareness of a chronically endangered world. ""Extreme Pursuits"" is the first study of its kind to link travel writing explicitly with structural changes in the global tourist industry.
The book makes clear that travel writing can no longer take refuge in the classic distinctions (traveler versus tourist, foreigner versus native) on which it previously depended, and works to redefine 'travel' to include its current manifestations - e.g., deportation, high-risk tourism, and migrant labor.
It argues accordingly that the category 'travel writing' must include experimental ethnography and prose fiction; that it should concern itself with other kinds of travel practice, including such things as Holocaust deportation and migrant labor; and that it should encompass representations of travelers, travel practices, and 'traveling cultures' that appear in popular media, especially TV and film.
Information
Format: Paperback / softback
Pages: 232 pages
Publisher: The University of Michigan Press
Publication Date: 15/12/2009
Category: Tourism industry
ISBN: 9780472050727
Free Home Delivery
on all orders
Pick up orders
from local bookshops