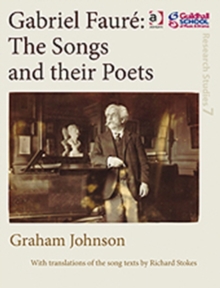 Gabriel Faure: The Songs and their Poets
Hardback
Description
The career of Gabriel Faure as a composer of songs for voice and piano traverses six decades (1862-1921); almost the whole history of French melodie is contained within these parameters.
In the 1860s Faure, the lifelong protege of Camille Saint-SaA"ns, was a suavely precocious student; he was part of Pauline Viardot's circle in the 1870s and he nearly married her daughter.
Pointed in the direction of symbolist poetry by Robert de Montesquiou in 1886, Faure was the favoured composer from the early 1890s of Winnarretta Singer, later Princesse de Polignac, and his songs were revered by Marcel Proust.
In 1905 he became director of the Paris Conservatoire, and he composed his most profound music in old age.
His existence, steadily productive and outwardly imperturbable, was undermined by self-doubt, an unhappy marriage and a tragic loss of hearing. In this detailed study Graham Johnson places the vocal music within twin contexts: Faure's own life story, and the parallel lives of his many poets.
We encounter such giants as Charles Baudelaire and Paul Verlaine, the patrician Leconte de Lisle, the forgotten Armand Silvestre and the Belgian symbolist Charles Van Lerberghe.
The chronological range of the narrative encompasses Faure's first poet, Victor Hugo, who railed against Napoleon III in the 1850s, and the last, Jean de La Ville de Mirmont, killed in action in the First World War. In this comprehensive and richly illustrated study each of Faure's 109 songs receives a separate commentary.
Additional chapters for the student singer and serious music lover discuss interpretation and performance in both aesthetical and practical terms.
Richard Stokes provides parallel English translations of the original French texts. In the twenty-first century musical modernity is evaluated differently from the way it was assessed thirty years ago.
Faure is no longer merely a 'Master of Charms' circumscribed by the belle epoque.
His status as a great composer of timeless
Other Formats
EPUB from £42.74
PDF from £42.74