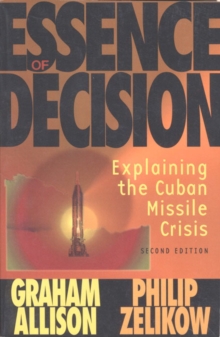 Essence of Decision : Explaining the Cuban Missile Crisis
Paperback
Description
One of the most influental political science works written in the post World War II era, the original edition of Essence of Decision is a unique and fascinating examination of the pivotal event of the cold Cold War.
Not simply revised, but completely re-written, the Second Edition of this classic text is a fresh reinterpretation of the theories and events surrounding the Cuban Missle Crisis, incorporating all new information from the Kennedy tapes and recently declassified Soviet files.
Essence of Decision Second Edition, is a vivid look at decision-making under pressure and is the only single volume work that attempts to answer the enduring question: how should citizens understand the actions of their government?
Information
Format: Paperback
Pages: 440 pages, Illustrations, ports.
Publisher: Pearson Education (US)
Publication Date: 19/01/1999
Category: International relations
ISBN: 9780321013491
Free Home Delivery
on all orders
Pick up orders
from local bookshops
Reviews
Showing 1 - 4 of 4 reviews.
Review by JBD1
16/06/2015
Different models of analysis - useful framework.
Review by jorgearanda
16/06/2015
Allison and Zelikow use evidence from the Cuban missile crisis to explain that our standard and intuitive explanations of world events (based on a rational model of action performed by relatively monolithic players: "the United States is getting out of Iraq to focus its resources on Afghanistan", for instance) is insufficient. They present two other models, one focused on organizational processes and the other on individuals jostling and bargaining within organizations, and they convincingly show that these models sometimes complement and sometimes supersede the rational model of action. The theoretical chapters are a difficult read for a layperson like me, but the intensity of the crisis and the variety of explanations that can be drawn from it is fascinating.
Review by ColinKillerB
16/06/2015
Excellent work that not only analyzes the Cuban Missile Crisis in depth, but explains the realities behind rational decision-making for individuals, States, and various organizations. This is an excellent source for the study of organizational behavior, and the fact that seeming irrational actions are sometimes the consequence of rational decisions.
Review by coronacopado
16/06/2015
The best single volume analyzing the defining moment in the nuclear age, the original edition of Essence of Decision is a classic work that has influenced generations of students, scholars, and policy makers. The new edition of this best-selling text includes comprehensive synthesis of all new evidence -including recently declassified Kennedy taps and Soviet files. Not only revised, but completely rewritten, the new edition provides deeper and clearer answers to an enduring question: how should citizens undertand the actions of their government?