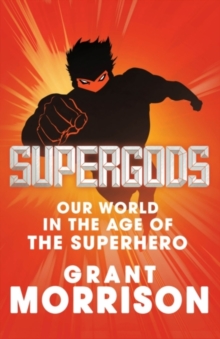 Supergods : Our World in the Age of the Superhero
Hardback
Description
Supergods is your opportunity to join one of the great figures of modern comics on a mind-bending journey into the world of the superheroes.
In 1938, the first superhero comic ever published, Action Comics #1, introduced the world to something both unprecedented and profoundly familiar: Superman, a caped god for the modern age.
In a matter of years, the skies of the imaginary world were filled with strange mutants, aliens and vigilantes: Batman, Wonder Woman, the Fantastic Four, Captain Marvel, Iron Man, and the X-Men - the list of names is as familiar as our own.
In less than a century they've gone from not existing at all to being everywhere we look: on our movie and television screens, in our videogames and dreams.
But why? For Grant Morrison, possibly the greatest of contemporary superhero storytellers, these heroes are not simply characters but powerful archetypes whose ongoing, decades-spanning story arcs reflect and predict the course of human existence: through them, we tell the story of ourselves. In this exhilarating book, Morrison draws on history, art, mythology, and his own astonishing journeys through this alternate universe to provide the first true chronicle of the superhero - why they matter, why they will always be with us, and what they tell us about who we are.
Information
Format: Hardback
Pages: 464 pages, Illustrations
Publisher: Vintage Publishing
Publication Date: 30/06/2011
Category: Comic book & cartoon art
ISBN: 9780224089968
Other Formats
Paperback from £9.15
EPUB from £7.99
Free Home Delivery
on all orders
Pick up orders
from local bookshops
Reviews
Showing 1 - 2 of 2 reviews.
Review by andy475uk
16/06/2015
Like a lot of Grant Morrison's work in comics (which I really enjoy) his take on superheroes starts off relatively straightforwardly covering the early days of Batman and Superman and then careers all over the place to include his personal life, the comics and graphic novels he and others have worked on, cosmic theories and a myriad of other different ideas and concepts. At times my brain felt like it had been put in the washing machine on a never-ending spin cycle (in a good way). I would have loved to have found out a bit more about the comics gossip and creation side of things and it's frustratingly elusive at times (why Zenith is unavailable in trade paperback, We3 isn't mentioned, series like Final Crisis and Batman are skated over rather than covered in depth and the Invisibles probably could have had about fifty more pages on it), but there is much to recommend if you like or have liked comics during the last forty or fifty years.
Review by twiglet12
16/06/2015
I am the geek this was written for! I love my comics but never really got into Superheroes but wanted to know more and Grant Morrison seemed like a great person to teach me about them. Loved the details about the different ages of the comics, the descriptions of the highs and lows and in the later part; the journey superhero comics were taking paralleled my life and the non-superhero comics I was reading. Really liked the style and autobiographical details as well.