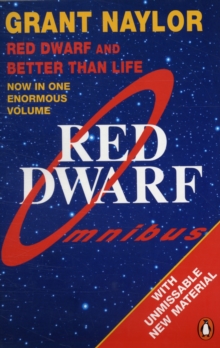 Red Dwarf Omnibus : Red Dwarf: Infinity Welcomes Careful Drivers & Better Than Life Infinity Welcomes Careful Drivers AND Better Than Life
Paperback
Description
Here are the first two novels of the cult series Red Dwarf in one volume - Red Dwarf and Better Than Life - plus the first draft of the original TV pilot script.
It all when Dave Lister is celebrating his twenty-fourth birthday on a Monopoly board pub crawl round London, and somehow ends up three million years from Earth, marooned in the wrong dimension of the wrong reality, and down to his last two cigarettes.
Together with a dead man, a senile computer, a deranged sanitation mechanoid with an overactive guilt chip and the best-dressed entity in all six known universes, the last remaining member of the human race begins his epic journey home.
Information
Format: Paperback
Pages: 608 pages
Publisher: Penguin Books Ltd
Publication Date: 03/11/1992
Category: Science fiction
ISBN: 9780140174663
Free Home Delivery
on all orders
Pick up orders
from local bookshops
Reviews
Showing 1 - 2 of 2 reviews.
Review by scronline
16/06/2015
It grieves me to see my absolute favorite book of all time with such a small readership. It pains me to see that even among these, none of them have taken the time to review it. Given, I had never heard of this book, nor seen it anwhere previous to my good friend digging it out of his closet, at the bottem of a box of hand-me-down, second hand books, I can understand and even forgive the general public of being unaware of this apparently hidden, or overlooked marvel. Yet for none of you faithfull Red Dwarf fans to even recommend or try to promote it fills me full of sorrow. Now I know why people think me crazy when I speak of this wonder, that is Red Dwarf.Set in your basic futuristic Sci-Fi world it is easy enough to get comfortable to the idea of intergalactic travel, and mammoth sized ships, aswell as all that is space gizmo and gadgetry. It is here that we find our unlikely hero Dave Lister set for a very unexpexted journey with a most unlikely crew. This tale exemplifies classic british humor and delivers it in excess. As with any comedy, it is not just the jokes themselves, but the deliverance that counts and Doug Naylor and Rob Grant can hit every beat right on time. The duo have crafted a story rich with characters you just love to hate but feel compelled to laugh instead. Unlike many books with a tendacy to skirk a good story, or sometime even a plot, to produce a few cheap laughs, Red Dwarf provides.It is really one of those novels you will be sad to finish because you know there is nothing after that, and nothing will compare. Fortunatley, indipendantly, Dog and Rob did create sequels, both that were kind of eachothers version of what took place after the events of Red Dwarf, and Better Then Life. If I had to recommend one book, there is not a one I would be more proud to represent then Red Dwarf.
Review by bluepigeon
16/06/2015
I have not seen the TV series, so I can't say I am a fan of the TV series like most other reviewers. But certainly, I loved the books. I think most people who like The Hitchhiker's Guide, for example, will enjoy these books as well. The humor is less subtle than Douglas Adams, but the story is more action packed (it has a more 21st century feel, not surprisingly.)<br/><br/>The main characters are brilliantly done. The lazy guy who loves curry, the loser technician who blames everyone else for his failures, the guilt-ridden cleaning android, the highly-evolved Cat, and of course, the irritating toaster that won't shut up. Let's not forget Holly, the super genius computer. I think I had greater expectations from Holly, though. I think I probably expected something more like Marvin, the paranoid android, something with more of a character, but the "character" from others makes up for this lack, for sure. <br/><br/>The story is an action-packed, silly adventure through space and time. Hilarious and horrible things happen to them from beginning to end and the characters, so beautifully crippled by their own flaws, try to survive it all. <br/><br/>All in all, a blast to read.