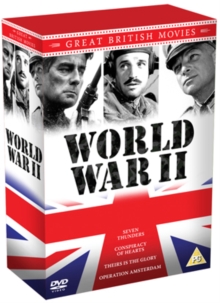 Great British Movies: WW2
DVD
Description
Collection of four WWII films. In 'Operation Amsterdam' (1959), a team of British experts are sent into Holland to secure valuable diamonds.
It is May 1940 and the Nazi invasion of the Netherlands has begun.
British Army Major Dillon (Tony Britton) heads into Holland with diamond experts Walter (Alexander Knox) and Jan (Peter Finch) on a mission to gather diamonds from Amsterdam dealers.
Finding help from the suicidal Anna (Eva Bartok) along the way, the three must battle against time, mistrustful Dutch natives and the threat of German spies to secure their precious cargo. 'Theirs is the Glory' (1946), is a fictional recreation of the Battle of Arnhem featuring performances from soldiers who fought in the actual battle.
The Battle occurred in September 1944, when British and American forces led by Field Marshall Montgomery attempted to cross the Rhine and establish a presence in Holland.
The ensuing fighting was frantic and chaotic and gave rise to the popular movie 'A Bridge Too Far'.
This earlier effort, filmed little more than a year after the battle itself and featuring men such as Stanley Maxted and Thomas Scullion who actually participated in the conflict, provides a dramatic and hard-hitting insight into the experience of war.
In 'Conspiracy of Hearts' (1960), a convent of nuns are seeking to rescue Jewish children from an interment camp in WWII Italy.
The nuns and their priest, Father Desmaines (Michael Goodliffe), see it as their Christian duty to do what they can to save the children from the horror of the camp.
Thanks to the generosity of the facility's commanding officer, Major Vittorio Spoletti (Ronald Lewis), who turns a blind eye, the enterprise hasn't been too dangerous so far.
However, when the Germans, led by Colonel Erich Horsten (Albert Lieven), begin taking a greater interest, both Spoletti and the nuns find themselves in grave danger.
In 'Seven Thunders' (1957), Dave (Stephen Boyd) and Jim (Tony Wright) are British soldiers who escape from an Italian POW camp.
They are smuggled into Marseilles, where Dave falls in love with orphan waif Lisa.
The men then meet Dr Martout (James Robertson Justice), who is to organise their escape from France.
However, Dave and Jim object to Martout's vicious methods, and find themselves forced to outwit both him and the Nazis.
Information
Format: DVD
Region: 2
Certification: (PG)
EAN: 5060105721281
Catalogue number: STW0048
Studio: Spirit Entertainment
Release date: 01/10/2012
Genre: War
Colour: Col & B/W
Also directed by Hugo Fregonese