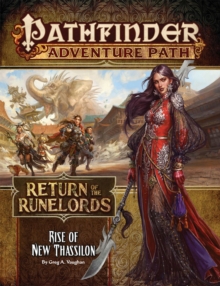 Pathfinder Adventure Path: Rise of New Thassilon (Return of the Runelords 6 of 6)
Paperback / softback
Description
Varisia has been destroyed! Runelord Alaznist'salteration of the past has thrown the frontier nation into chaos, devastatedcities, resurrected demon lords, and worse.
The Runelord of Wrath is now primedto seize control of a ruined realm, so that she can remake it into a NewThassilon with herself as its furious queen.
Only one desperate plan can setthings right-a band of heroes must discover a method to travel back in time andrepair the damage their enemy has wrought on history, but can they make thesacrifices necessary for victory?
This adventure allows the heroes to reach theabsolute height of power, but even the potent options gained at 20th level maynot be enough for the party to survive the furious might of Runelord Alaznist inher seat of power!This volume of PathfinderAdventure Path concludes the Return of the Runelords Adventure Path andincludes:* "Rise of NewThassilon," a Pathfinder RPG adventure for 17th-level characters, by GregA.
Vaughan. * A brief exploration of how theReturn of the Runelords Adventure Path will change Golarion in the future,including the first-ever map of the empire of Thassilon as it stood before thedevastation of Earthfall, by James Jacobs. *A bestiary of monsters, including undead salamander forgemasters, livinglandslides, the mysterious hallowed lynxes used by runelords as pets andguardians, a planar dragon from the tumultuous Maelstrom, and the immense GreatOld One Mhar itself, by John Compton, Andrew D.
Geels, Lyz Liddell, Luis Loza,and David Schwartz.
Free Home Delivery
on all orders
Pick up orders
from local bookshops