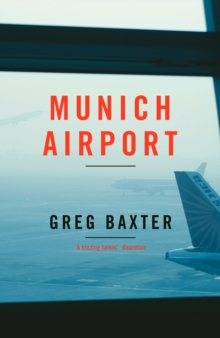 Description
Munich Airport: the brilliant new novel by Greg Baxter.
An American expat in London, about to enter a meeting, takes a phone call.
The caller is a German policewoman. The news she has to convey is almost incomprehensible: the man's sister, Miriam, has been found dead in her Berlin flat, of starvation.
Three weeks later, the man, his elderly father, and an American consular official find themselves in an almost unbearably strange place: a fogbound Munich Airport, where Miriam's coffin is to be loaded onto a commercial jet.
Greg Baxter's extraordinary novel tells the story of these three people over those three weeks of waiting for Miriam's body to be released, sifting through her possessions, and trying to work out what could have led her to her awful death.
Munich Airport is a novel about the meaning of home, and about the families we improvise when our real families fall apart.
It is a gripping, daring and mesmeric read from one of the most gifted young novelists currently at work.
Greg Baxter was born in Texas in 1974. He lived for a number of years in Dublin, and now lives in Berlin. He is the author of two previous highly acclaimed books: A Preparation for Death, a memoir, and The Apartment, a novel. "This rich and profound book is full of philosophical ideas and stark, ascetic beauty...The writing is scrupulous and often superb...I wholeheartedly recommend Munich Airport to everyone interested in the ongoing and fascinating human conversation that is first-rate fiction". (Guardian). "Quiet but mesmeric...The three central characters are beautifully drawn, their personalities unveiled for us during a series of understated revelations...It is a novel that, without a trace of sentimentality, is about the importance of family, and conversely how the existential loneliness of each of the characters has impoverished their lives". (Independent). "A story ...about the age in which we live, the nature of consumption, and the terrors that beset us and alienate us from ourselves and each other...So much more bracing and consequential than the bulk of contemporary fiction". (Irish Times). "Assured and fluent ...a forensic examination of what it means today to be a man, and to be human". (TLS).
Information
Format: Hardback
Pages: 272 pages
Publisher: Penguin Books Ltd
Publication Date: 03/07/2014
ISBN: 9780241969960
Other Formats
Paperback from £6.65
EPUB from £3.99
Free Home Delivery
on all orders
Pick up orders
from local bookshops
Reviews
Showing 1 - 2 of 2 reviews.
Review by oldblack
16/06/2015
I have mixed feelings about this book. Certainly some of those feelings are quite negative. For example, the absence of quotation marks to designate speech seemed to me to make the structure somewhat clumsy and stop the smooth flow of narrative. For what gain? I wasn't that keen on the complete absence of chapters, either. Nor did I like the sudden changes between 'current' events and events remembered and retold, although I can see that there could be some justification for that structure and Baxter did a good job of making the reader aware when he had slipped into memory mode. What I did like was the exploration of father-son relationships and sibling relationships. Not that these were deeply explored, but rather they were obliquely observed with almost random snapshots of the family in various contexts. I also enjoyed the observations of the modern life of a man in the marketing business. As is often the case, I suspect there's a lot more to this book than I was able to take in, due to my feeble mind. Certainly, I could see that the main character was deeply troubled by the fact that his sister had starved herself to death and he hadn't been aware of her decline...and this is connected to the fact that he attempted to perform surgery on his own abdomen with a steak knife. The fact that both he and his father were sick and unable to eat as they waited for his sister's body to be loaded onto the plane was also clearly a response to the sister's death and their feelings of guilt. But I didn't understand the main character's reckless spending on clothes and luxury goods just as he prepared to catch the plane back to America. And I didn't understand the ending at all. Nonetheless, I was left with a distinct positive impression. I could really appreciate the fact that the sister had felt empowered by having the ability to control and suppress her appetite, and that empowerment ironically had death as its consequence. My own mother constantly talks about her desire to die - and that if she had sufficient courage she would stop eating and starve herself to death. She longs to take back control of her life in the same way the the sister did in this story.
Review by RidgewayGirl
27/08/2015
I picked up this novel on a whim, knowing nothing about it. Usually, this ends badly for me, but this is the exception that will keep me bringing books home based solely on the cover and descriptions written on the dust jacket. The nameless narrator and protagonist is in Germany, helping his father bring home the body of his sister, who has died in her apartment in Berlin. The narrative takes place entirely within a long fog delay at the Munich airport, and the format of the novel is that of one man narrating the wait with his frail father and the official from the American consulate in Berlin who has been guiding them through the process. His memories range back through his childhood to the weeks spent waiting in Berlin for his sister's body to be released by the coroner. The format makes the absence of quotation marks and the way the novel jumps around feel entirely natural; we are accompanying this man as he spends his hours in the airport with his father or walking aimlessly about, privy to his random thoughts and rising agitation.<i>Munich Airport</i> feels a lot like Herman Koch's <i>The Dinner</i>, with a growing sense of something being wrong, although this is a much more restrained falling apart. The sister was troubled and distanced herself from her family, especially after her mother died. There were long stretches between encounters with her brother, making the changes in her stand out all the more. But the narrator has also been unsuccessful in many ways. He's in his forties, and despite a modest success in freelance consulting, he is remarkably unmoored to anyone. This is not a cheerful novel, but it is a good one. And the way it's written gives it a forward momentum that kept me reading.