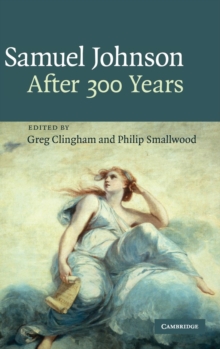 Samuel Johnson after 300 Years
Hardback
Description
To mark the tercentenary of Samuel Johnson's birth in 2009, the specially-commissioned essays contained here review his scholarly reputation.
An international team of experts reflects authoritatively on the various dimensions of literary, historical, critical and ethical life touched by Johnson's extraordinary achievement.
The volume distinctively casts its net widely and combines consistently innovative thinking on Johnson's historical role with a fresh sense of present criticism.
Chapters cover subjects as diverse as Johnson's moral philosophy, his legal thought, his influence on Jane Austen, and the question of the Johnson canon.
The contributors examine the larger theoretical and scholarly contexts in which it is now possible to situate his work, and from which it may often be necessary to differentiate it.
All the contributors have a distinguished record of scholarship in eighteenth-century studies, Johnson scholarship, and cultural history and theory.
Free Home Delivery
on all orders
Pick up orders
from local bookshops