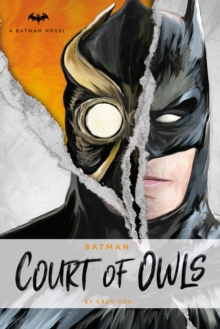 DC Comics Novels - Batman: The Court of Owls : An Original Prose Novel by Greg Cox
Paperback / softback
Description
An original novel pitting Batman against the Court of Owls, a secret society of wealthy families that's controlled Gotham for centuries using murder and money. For generations, an apocryphal cabal has controlled Gotham from the shadows, wielding fear and violence through its undead assassins, the Talons.
Its leaders meet in secrecy, hiding their identities behind masks.
Once, they sought to kill Bruce Wayne who, as Batman, dealt them their greatest defeats, but they faded back into darkness before he could eliminate them entirely. THE COURT OF OWLSNow Gotham City is plagued with a series of brutal murders.
Batman and his allies - including Nightwing and Batgirl - realize the Talons have returned.
Should the Owls obtain what they seek, it could grant them power that no one could counter.
Information
Format:Paperback / softback
Pages:336 pages
Publisher:Titan Books Ltd
Publication Date:12/11/2019
Category:
ISBN:9781785658181