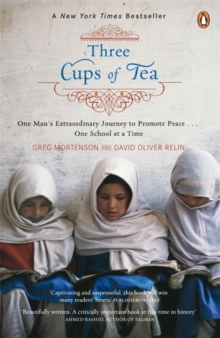 Three Cups of Tea
Paperback
Description
`Here we drink three cups of tea to do business; the first you are a stranger, the second you become a friend, and the third, you join our family, and for our family we are prepared to do anything - even die.'Haji Ali, Korphe Village Chief, Karakoram mountains, Pakistan In 1993, after a terrifying and disastrous attempt to climb K2, a mountaineer called Greg Mortenson drifted, cold and dehydrated, into an impoverished Pakistan village in the Karakoram Mountains.
Moved by the inhabitants' kindness, he promised to return and build a school.
Three Cups of Tea is the story of that promise and its extraordinary outcome.
Over the next decade Mortenson built not just one but fifty-five schools - especially for girls - in remote villages across the forbidding and breathtaking landscape of Pakistan and Afghanistan, just as the Taliban rose to power.
His story is at once a riveting adventure and a testament to the power of the humanitarian spirit.
Information
Format: Paperback
Pages: 368 pages
Publisher: Penguin Books Ltd
Publication Date: 03/01/2008
Category: Memoirs
ISBN: 9780141034263
Other Formats
Paperback from £5.59
EPUB from £2.99
Free Home Delivery
on all orders
Pick up orders
from local bookshops
Reviews
Showing 1 - 5 of 7 reviews.
Previous | Next
Review by TadAD
16/06/2015
I am clearly at odds with those who say something like, "I would have given this story 5 stars, but the writing was bad, so I only gave it 2 stars." Is the prose top-notch?...no. Would the book have been improved if a better editor had handled it?...absolutely!However, in my opinion, the measure of a story like this is how much impact it has upon you, not the grade it would get in an English class. I found the story, itself, riveting and the inconvenience of the manner in which it was told irrelevant. Regardless of whether or not you subscribe to Greg Mortensen's belief that education is one of the key ingredients in the battles against radical fundamentalism (and, I confess, I do), this is an inspiring story of someone unquestionably making the world a better place, at great personal cost, over rather overwhelming obstacles.I recommend that you read this book, keep your eye on the ball of what the message is, and see if there is some aspect of this message of making the world a better place one piece at time that resonates with you.
Review by uk_jw
16/06/2015
Fascinating and heart warming tale of climber Greg Mortenson's attempts to build schools and educate some of the poorest communities in Pakistan and Afghanistan. A real insight into a difficult region and a reminder that at the heart of the stories of war are many normal people fighting to make life better for themselves and their families. A great read.
Review by findantonia
16/06/2015
Incredible true story, well and simply written so very easy to read. Plus, trite, but the actions reported in it gave me hope for humanity. It also gave me a much better insight into the on the ground cultures of the area. Should have been required reading for anyone deploying others out there, or being deployed in the area. I hope the work continues and is supported. I checked out the website for further developments and hope there's another book at some point where writing won't get in the way of the real job at hand.
Review by jmsherman
16/06/2015
Inspirational. A must read that speaks to the human heart. Everyone has a part to play in building a better future.
Review by isabelx
16/06/2015
Standing next to Haji Ali, on the ledge overlooking the valley, with such a crystalline view of the mountains he'd come halfway around the world to measure himself against, climbing K2 to place a necklace on its summit suddenly felt beside the point. There was a much more meaningful gesture he could make in the honor of his sister's memory. He put his hands on Haji Ali's shoulders, as the old man had done to him dozens of times since they'd shared their first cup of tea. "I'm going to build you a school," he said, not yet realizing that with those words, the path of his life had just detoured down another trail, a route far more serpentine and arduous than the wrong turns he'd taken since retreating from K2. "I will build a school," Mortenson said. "I promise."Even before I got to that paragraph, I could see that Greg Mortenson came to Korphe at just the right point in his life, when he needed a new outlet for his caring side.By the middle of the book, Greg Mortenson had bumbled around, ignored sensible advice from his friend the Korphe village chief which leads to him being kidnapped close to the Afghan border (but luckily released) and taken 4 years to get one school built. But he also built up a team of backers and helpers both in Pakistan and America, and managed to get 4 more schools built the following summer, plus helping some other schools which already existed. And he also managed to marry a woman he had only known for 6 days!There were 18 people already in the queue to read my local library's copy of this book when I needed to read it for a book club, but luckily I was able to borrow a copy from a friend. So it's obviously popular and it's a very interesting story, but it's written in a very annoying style. Normally, these ghost-written stories are told in the first person, but this one is told in the third-person which I found very irritating for some reason.But whatever the book's shortcomings this is an inspiring tale, as Greg Mortenson tries to convince politicians and ordinary Americans that education is the best way to stop children from growing up into tewrrorists, and heads into Afghanistan to build girls' schools in areas retaken from the Taliban. And it was a real eye-opener to read about how Saudi money was flooding Pakistan, funding the building of mosques and madrassas with the opposite goal to Mortenson's.