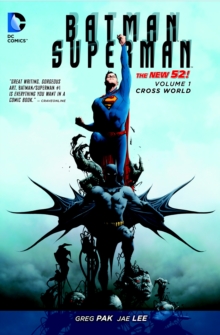 Batman/Superman Volume 1: Cross World TP (The New 52)
Paperback
Description
The Dark Knight and the Man of Steel are close friends in the modern day- but the two weren't always such close allies.
Discover how two of theWorld's Finest Super Heroes met for the first time in the New 52, and themysterious adventure that takes them to a whole new world - the world ofEarth 2!
The heroes of the main DC Universe meet their Earth 2 counterparts forthe first time!
Information
Format: Paperback
Pages: 144 pages
Publisher: DC Comics
Publication Date: 18/11/2014
ISBN: 9781401249342
Free Home Delivery
on all orders
Pick up orders
from local bookshops
Reviews
Showing 1 - 1 of 1 reviews.
Review by texascheeseman
27/08/2015
Batman/Superman: Cross WorldAuthor: Greg Pak & Jae LeePublisher: DC ComicsPublished In: New YorkDate: 2014Pgs: 144REVIEW MAY CONTAIN SPOILERSSummary:Before the dawning of the Heroic Age, before their friendship, before the Justice League and before Darkseid, a Superman and Batman were sent to another world by a rogue goddess. in this parallel dimension, the two greatest heroes of a world must become a team before they are who they will become. But to get home, they'll need the help of two other World's Finest superheroes, the Superman and Batman of Earth-2.Genre:AdventureComics and graphic novelsDisasterEnd of the WorldFantasyFictionMultiverseScience fictionSuperheroesWhy this book:I've largely ignored the New 52. I've fallen out of love with the monthly collection of comics to read. I've gone through these cycles before. This one does feel different though. I picked this up not realizing that it was New 52 related and carried it around the library with me before deciding, for sure, that I would give it a try.______________________________________________________________________________Favorite Character:Earth-2 Superman. He's everything that Superman should be when well written.Least Favorite Character: Kaiyo, the Chaos Bringer almost made me put the book down the second she was introduced. Seemed silly to me. And that's saying something. Luckily, I kept reading. Kaiyo is a bit rehabilitated by the Darkseid/Highfather/New Gods origin story, but still not a character I'm particularly in love with. Comes across as a pilot fish to Darkseid's shark.Character I Most Identified With:Earth-2 Alfred sitting on that porch with Jonathan Kent while the boys played.The Feel:The New 52 characters don't feel familiar in anything other than the uniforms they wear.Favorite Scene:Love young Earth-2 Clark and Earth-2 Bruce playing baseball and, then, fighting. And E-2 Alfred and E-2 Jonathan sitting on the porch.E-2 Martha putting a stop to the fight between Earth-0's Superman and Batman.Plot Holes/Out of Character:I don't like the way that Gotham is drawn in the scenes where Earth-0 Clark and Bruce are watching the kid be bullied and what the outcome is going to be. Gotham to me is brutal architecture. This was viney.Hmm Moments:A Superman who grew up without even as much Jonathan and Martha in his life as we are used to seeing in older comics. Makes me glad I skipped the majority of the New 52. That isn't tearing the Man of Steel down to his essence. That's just tearing him down.______________________________________________________________________________Last Page Sound:That's alright...I guess.Author Assessment:I don't know. Case-by-case basis.Knee Jerk Reaction:meh!Disposition of Book:Irving Public Library, Irving, TXSouth CampusDewey Decimal System: 741.5973 BATWould recommend to:genre fans______________________________________________________________________________Errata: