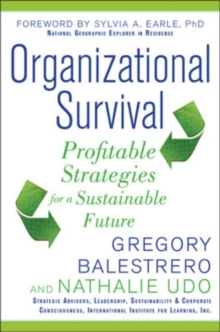 Organizational Survival: Profitable Strategies for a Sustainable Future
Hardback
Description
BOOST LOYALTY, PROFITABILITY, AND GROWTH WITH A STRATEGY OF SUSTAINABILITYOrganizational Survival provides a rational, research-based approach to creating a durable business strategy designed to meet the needs of today's customers and position an organization to outperform while positivelyimpacting society, the environment, community, and the bottom line. Balestrero and Udo present an airtight argument forsustainability being essential to any business strategygoing forward.
Illustrating how successful companiesaround the globe are already deliberately changing--including Coca-Cola, BMW, BASF, and Walmart--the authors take you step-by-step through the processes of developing a new strategy, or altering an existing one, to integrate sustainability into core business goals. Organizational Survival provides the tools neededto apply risk management, scenario planning, and due diligence to sustainability initiatives via theirinnovative SEEE model framework--developed in conjunction with International Institute for Learning, Inc.--which encompasses the social, economic, environmental, and ethical factors of strategic change. Learn to build adaptive foresight and steer the futureof your company based on:SOCIAL COMMITMENT: Integrate individual and community stakeholder interests into your strategy and align them with your company's valuesECONOMIC COMMITMENT: Develop a business model that will generate profits through sustainabilityENVIRONMENTAL COMMITMENT: Honestly assess the company's impact on the environment and take requisite actionETHICAL COMMITMENT: Build trust among all stakeholders through openness, transparency, and accountabilityEmbrace the changes businesses are facing, and implementa strategy now that will meet market demand and ensure your Organizational Survival. PRAISE FOR ORGANIZATIONAL SURVIVAL:"Fine book! What I find most impressive is the authors' success at achieving balance: Neither simply optimistic nor pessimistic, they offer grounds for hope.
The book balances the need for sustainability with opportunities for its achievement.
Well researched, their stories and their data come from both the developed and the developing world.
The book is both deeply principled and highly pragmatic." -- Jay Ogilvy, Dean and Chief Academic Officer, Presidio School of Management"There's no shortage of corporate sustainability books or leaders.
The rarity is corporate sustainability books by leaders: people who truly understand the institutional dynamics that get in the way of change, and that can be harnessed to make change happen.
Greg Balestrero and Nathalie Udo plug this gap admirably in Organizational Survival." -- Storm Cunningham, author of The Restoration Economy and reWealth"Organizational Survival is a comprehensive approach to supporting and leading change within an organization.
The practical insights, in-depth research, and business cases the authors present provide a valuable perspective on the business need for sustainability, as well as the practical assessment model and framework needed to successfully implement sustainability/Corporate Social Responsibility within an organization." -- Lisa Shambro, Executive Director, Foundation for Strategic Sourcing"Far more than a compelling case for change, Organizational Survival is a step-by-step roadmap for how to transform your corporate destiny and build a sustainable future for all." -- Simon Mainwaring, author of the New York Times bestseller We First: How Brands and Consumers Use Social Media to Build a Better World
Information
Format: Hardback
Pages: 352 pages, 15 Illustrations, unspecified
Publisher: McGraw-Hill Education - Europe
Publication Date: 16/11/2013
Category: Management & management techniques
ISBN: 9780071817127
Free Home Delivery
on all orders
Pick up orders
from local bookshops
Also by Gregory Balestrero