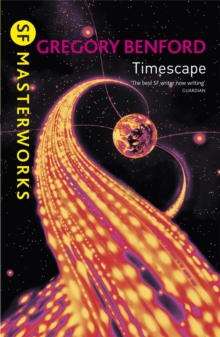 Description
The year is 1998, the world is a growing nightmare of desperation, of uncontrollable pollution and increasing social unrest.
In Cambridge, two scientists experiment with tachyons - subatomic particles that travel faster than the speed of light and, therefore, according to the Theory of Relativity, may move backwards in time. Their plan is to signal a warning to the previous generation. In 1962, a young Californian scientist, Gordon Bernstein, finds his experiments are being spoiled by unknown interference.
As he begins to suspect something near the truth it becomes a race against time - the world is collapsing and will only be saved if Gordon can decipher the message in time. Winner of the Nebula Award for best novel, 1980 Winner of the John W.
Campbell Award for best novel, 1981 Winner of the BSFA Award for best novel, 1980
Information
Format: Paperback
Pages: 416 pages
Publisher: Orion Publishing Co
Publication Date: 09/03/2000
Category: Science fiction
ISBN: 9781857989359
Free Home Delivery
on all orders
Pick up orders
from local bookshops
Reviews
Showing 1 - 1 of 1 reviews.
Review by iamza
16/06/2015
I usually hate time travel stories because they make my head hurt, but this one makes a pleasant change from the norm. It's not people travelling back through time, and requiring some FTL technobabble device, but messages streamed through time by means of already FTL tachyon particles.The story is told through the eyes of two sets of scientists. One team is based in Cambridge in the late nineties, in a world which is falling apart. The earth's climate has changed, algal blooms caused by pesticides are wreaking havoc on the oceans, and civilization is slowly starting to crumble under the pressure of sustained ecological chaos. The second team, consisting mostly of physicist Gordon Bernstein, is based in La Jolla, California in the early sixties. It's interesting to compare and contrast between the two worlds: Gordon is an assistant professor at La Jolla, hungry for promotion and his chance to procure tenure. As with many of the greatest discoveries, his scientific breakthrough comes quite by accident: Bernstein and Cooper, his assistant, are running a series of experiments whose results are plagued by seemingly random noise. It is only when Bernstein analyzes the noise more completely that he realizes what he has found, and then he faces an uphill struggle to persuade his peers that he has found something worthy of further study. Renfrew and Markham, by contrast, come across as much older and more worn. They're not at the start of their scientific careers, searching for glory and acclaim or to gain a quick promotion. Rather, their experiments offer hope, a last chance measure to stop the environmental disaster unfolding in their time before it has a chance to overshoot. One of the things that I like most about this novel is the detailing of everyday academic life. The idea that a brilliant scientific discovery might be put on hold or pooh-poohed by the academic community at large because of departmental politics, or that one should refrain from publishing anything the slightest bit controversial because it might impact your standing amongst your fellow peers felt horribly familiar.
Also in the S.F. Masterworks series | View all