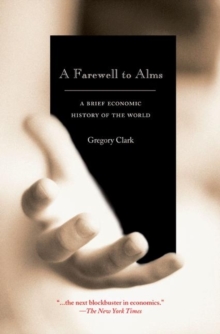 A Farewell to Alms : A Brief Economic History of the World
Paperback
Description
Why are some parts of the world so rich and others so poor?
Why did the Industrial Revolution--and the unprecedented economic growth that came with it--occur in eighteenth-century England, and not at some other time, or in some other place?
Why didn't industrialization make the whole world rich--and why did it make large parts of the world even poorer?
In A Farewell to Alms, Gregory Clark tackles these profound questions and suggests a new and provocative way in which culture--not exploitation, geography, or resources--explains the wealth, and the poverty, of nations.
Countering the prevailing theory that the Industrial Revolution was sparked by the sudden development of stable political, legal, and economic institutions in seventeenth-century Europe, Clark shows that such institutions existed long before industrialization.
He argues instead that these institutions gradually led to deep cultural changes by encouraging people to abandon hunter-gatherer instincts-violence, impatience, and economy of effort-and adopt economic habits-hard work, rationality, and education. The problem, Clark says, is that only societies that have long histories of settlement and security seem to develop the cultural characteristics and effective workforces that enable economic growth.
For the many societies that have not enjoyed long periods of stability, industrialization has not been a blessing.
Clark also dissects the notion, championed by Jared Diamond in Guns, Germs, and Steel, that natural endowments such as geography account for differences in the wealth of nations.
A brilliant and sobering challenge to the idea that poor societies can be economically developed through outside intervention, A Farewell to Alms may change the way global economic history is understood.
Information
Format: Paperback
Pages: 432 pages, 25 halftones. 78 line illus. 65 tables.
Publisher: Princeton University Press
Publication Date: 18/01/2009
ISBN: 9780691141282
Free Home Delivery
on all orders
Pick up orders
from local bookshops
Reviews
Showing 1 - 2 of 2 reviews.
Review by l4stewar
16/06/2015
Fantastic book. It has a nice density to it, similar to the directly referenced Guns Germs and Steel. The book has helped to renew my pride in the prosperity of the United States, and the virtues which make that prosperity possible (which I thought I'd lost permanently after reading The Shock Doctrine). I'm only halfway through, but the thesis appears to be this: Contrary to popular economic wisdom (in the author's opinion, I'm no expert here), strong institutions alone are not sufficient for the development of a modern, healthy, free-market economy. Attitudes towards work and literacy/numeracy rates for example are critical. Attitudes towards work are especially interesting because of the fact that they are a cultural attribute which can't be institutionalized overnight, despite the best efforts of brilliant economists like Milton Friedman and Jeffrey Sachs. The book is thus interesting from an international development and progressive policy-making perspective, because it suggests that much of our efforts to help with modernization of the third-world have been severely misguided.This is one of those books that I look forward to reading every day. Clark is a wonderful writer. His prose is even humorous and (very) occasionally poetic, but always very well organized and packed with information. There is even a sprinkling of basic economics math and theory which is great.
Review by MarkStickle
16/06/2015
This book has been trashed by the "political correctness" crowd, and they have employed their usual slash and burn technique of accusing the author of statements and arguments that are not to be found in the book itself. What Clark DOES argue -- that "economic success translated powerfully into reproductive success," with relatively richer individuals producing more surviving offspring and, thus increasing their genetic clout -- hardly seems controversial. Moreover, Clark's argument is supported by impressive work in archival sources and buttressed by his long years of experience as a leading demographic and economic historian. For those interested in an honest and open exploration of the perennially intriguing question of why capitalist development took off precisely when and where it did, Clark's claim that "the attributes that [ensured] later economic dynamism -- patience, hard work, ingenuity, innovativeness, education ..." were spread through the population as a result of the relative reproductive success of certain groups of individuals is challenging indeed. Clark makes NO attempt to argue that those groups were morally or intellectually superior (although he has been accused of that). He argues only that they possessed certain skills and traits which enabled them to adapt with greater success to the (frequently mind-numbing) requirements of a capitalist economy.
Also in the The Princeton Economic History of the Western World series | View all