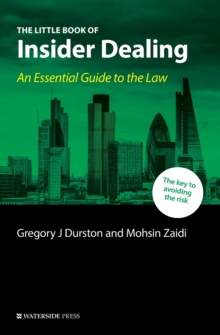 The Little Book of Insider Dealing : An Essential Guide to the Law
Paperback / softback
Description
Since the Financial Crisis of 2008, criminal prosecution has moved to centre-stage as the Financial Conduct Authority's preferred means of punishing and deterring insider dealing (the illegal practice of trading with access to sensitive non-public information).
The Little Book of Insider Dealing looks at all aspects of the 'insider' offences established by the Criminal Justice Act 1993, including their history, punishment and rationale, as well as their (slightly uneasy) relationship with the overlapping civil regulatory regime that also governs such financial misconduct.
Topics covered also include: detection, compliance, surveillance, suspicion, reporting obligations, enforcement and (civil and criminal) penalties and warnings, plus there is a strong focus on the evidential and a wealth of examples from real life cases.
Information
Format: Paperback / softback
Pages: 192 pages
Publisher: Waterside Press
Publication Date: 07/02/2018
Category: Financial law
ISBN: 9781909976535
Also by Gregory Durston