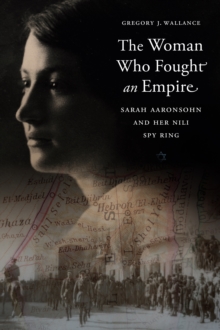 The Woman Who Fought an Empire : Sarah Aaronsohn and Her Nili Spy Ring
Hardback
Description
Though she only lived to be twenty-seven, Sarah Aaronsohn led a remarkable life.
The Woman Who Fought an Empire tells the improbable odyssey of a spirited young woman--the daughter of Romanian-born Jewish settlers in Palestine--and her journey from unhappy housewife to daring leader of a notorious Middle East spy ring. Author Gregory J. Wallance draws on archival records as well as the memoirs, diaries, and letters of Sarah, her brothers, and fellow spies.
Following the outbreak of World War I, Sarah Aaronsohn learned that her brother Aaron had formed Nili, an anti-Turkish spy ring, to aid the British in their war against the Ottomans.
Believing that only liberation from the Ottoman Empire could advance Jewish settlement in Palestine, Sarah joined, eventually rising to become the organization's leader.
Operating behind enemy lines, she and her spies furnished vital information to British Intelligence in Cairo about Turkish military forces and fortifications until, in the fall of 1917, she was arrested by the Turks.
To protect her secrets, Sarah shot herself. The Woman Spy Who Fought an Empire tells the incredible story of a remarkable woman who would become known as the Jewish Joan of Arc and the "hero of Nili."
Information
Format: Hardback
Pages: 328 pages, 18 photographs, 2 maps
Publisher: Potomac Books Inc
Publication Date: 30/03/2018
ISBN: 9781612349435