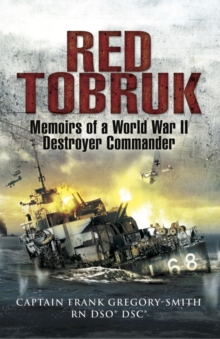 Red Tobruk : Memoirs of a World War II Destroyer Commander
Hardback
Description
Red Tobruk, the war memoir of the Captain of HMS Eridge from late 1940 until August 1942 is a superb account of wartime action at sea.Frank Gregory-Smith's war started on the destroyer Jaguar and he saw actionoff Norway and during the Dunkirk evacuation, when she was hit by enemy air attack with 25 men killed.Command of the new escort destroyer HMS Eridge followed (he was to be heronly Captain) and they deployed to the Eastern Mediterranean, and so began agruelling 18 months of convoys to Tobruk and Malta under German controlledskies. 'Red Tobruk' was the name for the enemy aircraft warning that the Tobruk radar station put out which all sailors dreaded as it meant yet another attack was imminent.
Eridge survived countless such attacks. She fought in the famous Battle of Sirte when the powerful Italian fleet was seen off.
She had to pick up survivors, take stricken ships in tow and once had only blanks to fire at attacking enemy aircraft.
Among Eridge's achievements was the sinking ofU-568 in May 1942.The author's luck finally ran out in August 1942 when Eridge was torpedoedby an Italian MTB.
Under constant air attack, she was towed to Alexandriabut was irreparable. Saddened by the loss of his ship but cheered by theAllies' increasing superiority, Gregory-Smith returned to Britain havingbeen awarded two DSOs and one DSC (a second followed at D-Day).All this and more is told in the most graphic and moving fashion in thisexceptional memoir, which will recall to many readers that naval classic TheCruel Sea.
The big difference, of course, is that Red Tobruk is a truepersonal account.
Free Home Delivery
on all orders
Pick up orders
from local bookshops