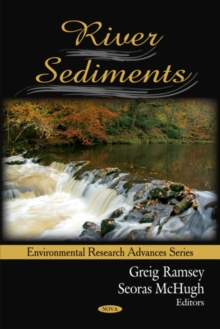 Description
Sediments are loose earth materials with variable grain size such as sand, silt and clay that accumulate on the land surface, in river and lake beds, and on the ocean floor.
This book reports how data obtained for different elements (stable and radioactive) present in bottom sediments and suspended particulate matter (SPM) can be utilised to investigate hydrological processes occurring in different hydrographic basins in Brazil, South America.
Particular attention is directed towards describing the importance of sediments on the adsorption of different stable/radioactive constituents.
This book also evaluates the most common methods utilised to obtain metal background values for soil and sediments.
These techniques are helpful when it is necessary to differentiate the background metal concentration from the area, from the pollutant metal concentration.
Also reviewed is the data on content of aliphatic hydrocarbons (HC), polycyclic aromatic hydrocarbons (PAH) and suspended matter in snow, ice and under-ice water and bottom sediments at Northern Dvina mouth.
Other chapters in this book examine the decomposition rate of organic matter in river sediments using the litterbag method, as well as measurement of O2 consumption rate by microbial respiration and microbiomass in sediment, and the speciation of some spiked components of sediments such as sand and clays.
It is intended that this review will provide the present state of knowledge and current trends for investigators in this field.
Information
Format: Hardback
Pages: 206 pages, tables & charts
Publisher: Nova Science Publishers Inc
Publication Date: 18/05/2010
Category: Hydrology & the hydrosphere
ISBN: 9781607414377
Free Home Delivery
on all orders
Pick up orders
from local bookshops