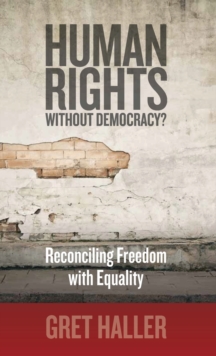 Human Rights Without Democracy? : Reconciling Freedom with Equality
Hardback
Description
Do Human Rights truly serve the people? Should citizens themselves decide democratically of what those rights consist? Or is it a decision for experts and the courts? The author argues that Human Rights must be established democratically.
Drawing on the works of political philosophers from John Locke to Immanuel Kant, the author explains why, from a philosophical point of view, liberty and equality need not be mutually exclusive.
She outlines the history of the concept of Human Rights, while shedding light on the historical development of factual rights.
The author also compares how Human Rights are understood in the United States in contrast to Great Britain and Continental Europe, uncovering vast differences.
The end of the Cold War was a challenge to reexamineequality as being constitutive of freedom, yet the West has not seized this opportunity and instead allows so-called experts to define Human Rights based on individual cases.
Ultimately, the highest courts revise political decisions and thereby discourage participation in the democratic shaping of political will.
Information
Format: Hardback
Pages: 180 pages
Publisher: Berghahn Books
Publication Date: 17/01/2013
Category: Human rights
ISBN: 9780857457868
Also by Gret Haller