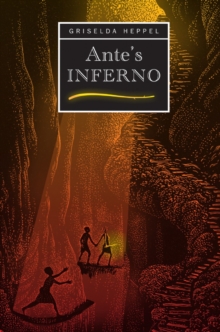 Description
Twelve year-old Ante (Antonia) Alganesh has a problem.
It's lunchbreak and Florence's gang are after her. Desperate for a place to hide, she climbs the forbidden staircase to the old organ loft, where a hundred years ago a boy tumbled to his death.
No one will think of looking for her there... Except Florence. Petrified, Ante watches her enemy approach, leaning on the rotten hand-rail.
She shouts a warning, but it's too late. There's a crash - and a boy appears from nowhere, just as a door opens in the wall behind them.
All three find themselves in a tunnel leading to a river bank where people queue to be rowed across by a filthy old ferryman... Forced to bury their differences, Ante and Florence accompany the strange boy, Gil, on a journey he should have taken 100 years ago through the Underworld.
Making their way past the Shopping Maul and Multivice Complex, attacked by Cerberus, Harpies, Furies and the Minotaur, all this is bad enough: far worse is the doubt gnawing at Ante's heart... Ante's Inferno is a gripping combination of fantasy, Greek mythology and adventure, for children aged 9-12 years old.
Author Griselda is inspired by C. S. Lewis and Norton Juster's The Phantom Tollbooth. Ante's Inferno won the Children's award in the People's Book Prize 2013, and the Silver award in the 9-12 year-old category of the Wishing Shelf Independent Book Awards 2012.
Information
Format: Hardback
Pages: 208 pages
Publisher: Troubador Publishing
Publication Date: 01/08/2012
Category: Fantasy
ISBN: 9781780882413
Free Home Delivery
on all orders
Pick up orders
from local bookshops
Also by Griselda Heppel