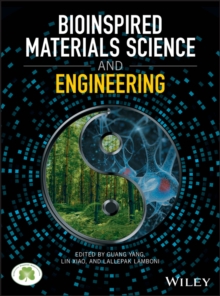 Bioinspired Materials Science and Engineering
Hardback
Description
An authoritative introduction to the science and engineering of bioinspired materialsBioinspired Materials Science and Engineering offers a comprehensive view of the science and engineering of bioinspired materials and includes a discussion of biofabrication approaches and applications of bioinspired materials as they are fed back to nature in the guise of biomaterials.
The authors also review some biological compounds and shows how they can be useful in the engineering of bioinspired materials. With contributions from noted experts in the field, this comprehensive resource considers biofabrication, biomacromolecules, and biomaterials.
The authors illustrate the bioinspiration process from materials design and conception to application of bioinspired materials.
In addition, the text presents the multidisciplinary aspect of the concept, and contains a typical example of how knowledge is acquired from nature, and how in turn this information contributes to biological sciences, with an accent on biomedical applications.
This important resource: Offers an introduction to the science and engineering principles for the development of bioinspired materialsIncludes a summary of recent developments on biotemplated formation of inorganic materials using natural templatesIllustrates the fabrication of 3D-tumor invasion models and their potential application in drug assessmentsExplores electroactive hydrogels based on natural polymersContains information on turning mechanical properties of protein hydrogels for biomedical applicationsWritten for chemists, biologists, physicists, and engineers, Bioinspired Materials Science and Engineering contains an indispensible resource for an understanding of bioinspired materials science and engineering.
Information
Format: Hardback
Pages: 400 pages
Publisher: John Wiley & Sons Inc
Publication Date: 03/08/2018
Category: Biotechnology
ISBN: 9781119390329
Free Home Delivery
on all orders
Pick up orders
from local bookshops