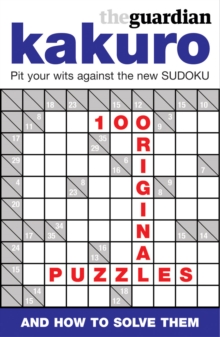 The Guardian Book of Kakuro
Paperback / softback
Description
When the Guardian relaunched their new Berliner sized paper this autumn, they chose Kakuro as one of their launch vehicles.
Kakuro (called Kakro in Japan and Cross Sums in the USA) has become the new number puzzle phenomenon gathering millions of fans worldwide.
Older than puzzle favourite Sudoku and played for many years in Japan, Kakuro is best described as a kind of mathematical crossword. Like Sudoku, Kakuro is played on grids of varying sizes.
Each grid consists of blank and filled squares similar to a crossword puzzle and the object of Kakuro is to fill in each of the white squares with the numbers 1-9 so that each set of blanks adds up to the total to the left or above.
The same number cannot be used more than once in each set.
Some filled in squares have a diagonal slash across them with two numbers - one above and one below the diagonal.
These are the 'clues' - the number in the top right corner relates to a horizontal 'clue' and the one in the bottom left corner relates to a vertical one. The Guardian Book of Kakuro features over 100 different number puzzles, graduating from 40 simple number games to 20 puzzles of medium difficulty and then finally featuring some really tough puzzle games for those who have mastered the skill.
Each puzzle has been hand crafted by a Japanese inventor and is wholly original.
The Guardian Book of Kakuro includes four pages of 'How To', explaining the rules and featuring example puzzles, plus a page of unique number combinations.
Information
Format: Paperback / softback
Pages: 128 pages
Publisher: Cornerstone
Publication Date: 14/11/2005
Category: Sudoku & number puzzles
ISBN: 9780099499589
Also by Guardian News and Media Ltd