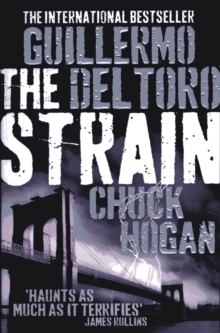 Description
High-concept thriller with a supernatural edge from world-famous director, whose films include Pan's Labyrinth and Hellboy.
Now a popular Amazon TV show.A plane lands at JFK and mysteriously `goes dark', stopping in the middle of the runway for no apparent reason, all lights off, all doors sealed.
The pilots cannot be raised.When the hatch above the wing finally clicks open, it soon becomes clear that everyone on board is dead - although there is no sign of any trauma or struggle.
Ephraim Goodweather and his team from the Center for Disease Control must work quickly to establish the cause of this strange occurrence before panic spreads.The first thing they discover is that four of the victims are actually still alive.
But that's the only good news. And when all two hundred corpses disappear from various morgues around the city on the same night, things very rapidly get worse.
Soon Eph and a small band of helpers will find themselves battling to protect not only their own loved ones, but the whole city, against an ancient threat to humanity.
Information
Format: Paperback
Pages: 496 pages
Publisher: HarperCollins Publishers
Publication Date: 01/03/2010
Category: Thriller / suspense
ISBN: 9780007311293
Other Formats
Hardback from £20.79
EPUB from £2.99
Free Home Delivery
on all orders
Pick up orders
from local bookshops
Reviews
Showing 1 - 3 of 3 reviews.
Review by robertdatson
16/06/2015
Picked this up whilst researching modern horror. It's a vampire story, but - no love story...no classical view of vampires. More like zombies crossed with vampires, out to convert everyone to vampires as quickly as possible. It's made interesting by the ususal factor - a solid cast of heroes. It's vol 1, and the real test, is that I am keen to read the next one to see what happens. Tension is built nicely - some genuinely scary moments - or was that the nightmares I had afterwards? It isn't ground breaking - a variation of I am Legend - but a modern take, and it rattles along nicely.
Review by icerider
16/06/2015
Probably one of the best books out there to talk about vampires and not get sucked into those idiotic stereotypes that we're all used to. The modern twist on viruses and vampires makes them more scary and more believable. I have a bit of problem with Setrakian running around and killing vampires giving his age and physical health....but that can be overlooked. Overall, it's a very captivating book that'll keep your attention from start to finish.
Review by ChelleBearss
16/06/2015
When a Boeing 777 pulls into JFK airport and stops on the tarmac and loses all power the ground crew is concerned. When it stays that way and the people on the plane make no attempt to get out the CDC gets involved and finds a shock of gigantic proportions when they get on the plane. Dr Ephraim Goodweather is the head of the Canary Project for CDC in New York and is one of the first two people on the plane. What he finds amazes and confuses him and as he starts to find out more about the situation quickly finds his life spinning out of control into an area that surpasses his imagination. Meanwhile holocaust survivor Abraham Setrakian sees the news story about the plane and he has a sinking feeling that a foe from his past has arrived. He has waited 60 years to come face to face again with The Master. The Plague has come to New York City.This was an absorbing read. I gobbled it up as quick as I could and can't wait for the sequel. This was a fresh look at vampirism, back to the days of vampires as a danger to society and not the romanticized version where they live in peace with humanity and drink blood from the blood bank. These vampires are not your friends. Run."A truce has been broken. An ancient, sacred pact. By a man who is no longer a man, but an abomination. A walking, devouring abomination"