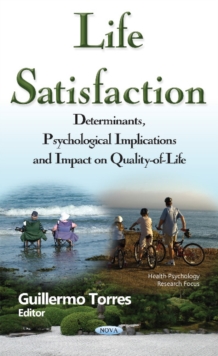 Life Satisfaction : Determinants, Psychological Implications & Impact on Quality-of-Life
Hardback
Description
The state of health and life satisfaction are influenced not only by social and demographic factors, but also by a number of other factors: the rate of occurrence of sickness and health problems, lifestyle, how leisure time is spent, a balanced diet, ecological conditions, etc.
This book provides a review of determinants of life satisfaction, psychological implications, and the impact of life satisfaction on the quality-of-life.
Chapter One studies the influence of social and demographic factors (age, gender group, lifestyle, presence or absence of chronic diseases) on parameters of self-assessed health and life satisfaction by studying the population of Poland.
Chapter Two provides an evidence-based review of gratitude interventions.
Chapter Three investigates the connection between well-being and time use with the focus on working parents.
Chapter Four examines the impact of health-related quality of life on female migrant workers suffering from cadmium poisoning in China.
Free Home Delivery
on all orders
Pick up orders
from local bookshops