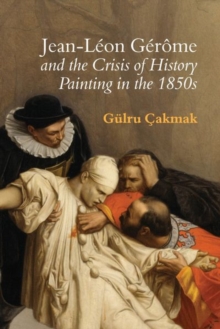 Jean-Leon Gerome and the Crisis of History Painting in the 1850s
Hardback
Description
'A crisis in historical representation unfolded in French visual culture in the first half of the nineteenth century, reaching its climax at the Paris Universal Exhibition of 1855, when artists and critics alike came to a troubling realization: depictions of past heroes that had once held exceptional influence over their viewers now left the public indifferent.
This book shows that underneath this crisis was a mounting demand for empirical observation in art, and an emergent modern epistemology that posited the past as foundational and yet inaccessible to the physically and historically specific individual.
Since neither the painter nor the viewer could have actually experienced a bygone historical incident as it unfolded, was history painting even feasible in modern times?
When historical representation seemed all but impossible to critics and artists of various hues, Gerome came up with a momentous solution.
A small group of paintings constitute the focus of this provocative study on the artist's early work, whose pivotal role in Gerome's oeuvre as well as in the broader history of modernization of art have been so far unrecognized in art historical scholarship.
In these, the artist charted a new roadmap for the art of painting in response to the modern sensibility of history.'
Information
Format: Hardback
Pages: 256 pages, 13 Illustrations, color; 36 Illustrations, black and white
Publisher: Liverpool University Press
Publication Date: 01/12/2017
ISBN: 9781786940674
Free Home Delivery
on all orders
Pick up orders
from local bookshops