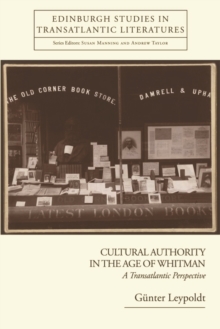 Cultural Authority in the Age of Whitman : A Transatlantic Perspective
Hardback
Description
Cultural Authority in the Age of Whitman deals with narratives of cultural legitimation in nineteenth-century US literature, in a transatlantic context.
Exploring how literary professionalism shapes romantic and modern cultural space, Leypoldt traces the nineteenth-century fusion of poetic radicalism with cultural nationalism from its beginnings in transatlantic early romanticism, to the poetry and poetics of Walt Whitman, and Whitman's modernist reinvention as an icon of a native avant-garde.
Whitman made cultural nationalism compatible with the rhetorical needs of professional authorship by trying to hold national authenticity and literary authority in a single poetic vision.
Yet the notion that his 'language experiment' transformed essential democratic experience into a genuine American aesthetics also owes much to Whitman's retrospective canonization. What Leypoldt calls Whitmanian authority is thus a transatlantic and transhistorical discursive construct that can be approached from four angles: this book begins with an overview of transatlantic contexts such as the 19th-century literary field (Bourdieu) and the romantic turn to expressivism (Taylor); a detailed analysis of how Whitman's positions develop from the intellectual habitus and cultural criticism of Ralph Waldo Emerson follows, and in a third section Whitmanian authority is located within three conceptual fields that function as contact zones for European and American theories of culture: romantic notions of national style as a kind of music; place-centered concepts of national aesthetics; and traditional ideas about the aesthetic effects of democratic institutions.
The final section, on Whitman's reinvention between the 1870s and the 1940s, discusses how the heterogeneous nineteenth-century perceptions of Whitman's work were streamlined into a modernist version of Whitman's nationalist program.
Free Home Delivery
on all orders
Pick up orders
from local bookshops
Also in the Edinburgh Studies in Transatlantic Literatures series | View all