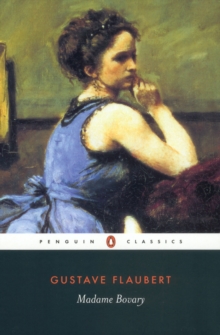 Description
Gustave Flaubert's Madame Bovary is one of the most influential - and scandalous - novels of the nineteenth century.
This Penguin Classics edition is translated with an introduction by Geoffrey Wall, with a preface by Michele Roberts.Emma Bovary is beautiful and bored, trapped in her marriage to a mediocre doctor and stifled by the banality of provincial life.
An ardent reader of sentimental novels, she longs for passion and seeks escape in fantasies of high romance, in voracious spending and, eventually, in adultery.
But even her affairs bring her disappointment and the consequences are devastating.
Flaubert's erotically charged and psychologically acute portrayal of Emma Bovary caused a moral outcry on its publication in 1857.
It was deemed so lifelike that many women claimed they were the model for his heroine; but Flaubert insisted: 'Madame Bovary, c'est moi.'Gustave Flaubert (1821-1880) was born in Rouen.
After illness interrupted a career in law, he retired to live with his widowed mother and devote himself to writing.
Madame Bovary won instant acclaim upon book publication in 1857, but Flaubert's frank display of adultery in bourgeois France saw him go on trial for immorality, only narrowly escaping conviction.
Both Salammbo (1862) and The Sentimental Education (1869) were poorly received, and Flaubert achieved limited success in his own lifetime - but his fame and reputation grew steadily after his death.
If you enjoyed Madame Bovary you might also like Stendhal's The Red and the Black, also available in Penguin Classics.'Its beauty is enchanting and terrible'A.S.
Byatt, author of Possession'An extraordinarily innovative work: its style was at once ironic and lyrical, detached and passionate, ambiguous and precise'Kate Summerscale
Information
Format: Paperback
Pages: 384 pages
Publisher: Penguin Books Ltd
Publication Date: 31/12/2002
Category: Classic fiction (pre c 1945)
ISBN: 9780140449129
Other Formats
Hardback from £8.35
Paperback from £2.50
EPUB from £0.99
eAudiobook MP3 from £11.89
Mixed media product from £10.32
Free Home Delivery
on all orders
Pick up orders
from local bookshops
Reviews
Showing 1 - 5 of 31 reviews.
Previous | Next
Review by jennyo
16/06/2015
Well, I'm glad I can finally say I've read this book now, but I can't say I was particularly wild about it. I did think it was very well written, and remarkably easy to read (I'm not sure why I always think Classics are going to be difficult...), but I found all the characters irritating and didn't develop any sort of sympathy for any of them. I'm not sorry I read it, and I do think we might have a decent discussion about it at book club this month, but it's definitely not one I'll feel the need to reread at any point in my life.
Review by travellingsg
16/06/2015
Interesting depiction of a woman's inner fears and secret life, set against the backdrop of a traditional French society. Flaubert is at his best here, with the conversations and thoughts of the characters fully fleshed out.
Review by mariejelis
16/06/2015
Dear Emma, what were you thinking?! With Madame Bovary, Flaubert has the reader mocking the main character one minute, despising her the next and feeling sorry before long. Great read today, I can only imagine the shock effect back in the mid 1800s!
Review by greathouse.28
16/06/2015
This book was a cyncial summary of the French culture and classes of the time. Despite it being written long ago, the basic themes can still apply to our world today. Gustave Flaubert definantly had a jaded perspective and used extremity to illustrate his views. Madame Bovary is a twisted story, but is so interesting because it can also be relavent to modern times.
Review by obrien.341
16/06/2015
I liked this book and am glad I read it, especially since it is a classic. Reading it for English class and having discussions definitely helped me get through to the meanings of some parts that i didn't quite get and helped me understand exactly what Flaubert was trying to say. In this book, Emma reminds me of a classical version of a desperate housewife. She is never satisfied with what she has and carries on several affairs while her husband stands idly by.