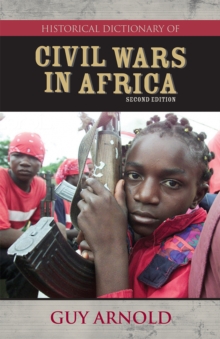 Historical Dictionary of Civil Wars in Africa
Hardback
Description
Ever since the end of World War II, and even more so since 1960, when seventeen African colonies became independent of colonial rule, the African continent has been ravaged by a series of wars.
These wars have ranged from liberation struggles against former colonial powers to power struggles between different factions in the aftermath of independence.
They have ranged from border wars between newly independent states to civil wars between ethnic groups.
As with many conflicts, outside forces were drawn into these wars, and major powers outside the continent intervened on one side or the other for a variety of reasons: political ideology, Cold War considerations, ethnic alignments, and stemming the flow of violence. Whether referring to Algeria's struggle for independence from French colonial rule, Nigeria's internal struggles to achieve a balanced state after the British departure, the Rwandan genocide of 1994, or the current ethnic cleansing in Darfur, the second edition of the Historical Dictionary of Civil Wars in Africa covers all of the wars that have occurred in Africa since independence.
This is done through a chronology broken down by country, a list of acronyms and abbreviations, an introductory essay, a bibliography, and cross-referenced dictionary entries covering the wars, conflicts, major political and military figures, child soldiers, mercenaries, and blood diamonds.
Information
Format: Hardback
Pages: 536 pages
Publisher: Scarecrow Press
Publication Date: 19/11/2007
Category: African history
ISBN: 9780810857667
Free Home Delivery
on all orders
Pick up orders
from local bookshops