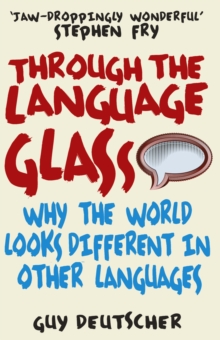 Through the Language Glass : Why the World Looks Different in Other Languages
Paperback
Description
"Guy Deutscher is that rare beast, an academic who talks good sense about linguistics... he argues in a playful and provocative way, that our mother tongue does indeed affect how we think and, just as important, how we perceive the world." Observer*Does language reflect the culture of a society? *Is our mother-tongue a lens through which we perceive the world? *Can different languages lead their speakers to different thoughts?
In Through the Language Glass, acclaimed author Guy Deutscher will convince you that, contrary to the fashionable academic consensus of today, the answer to all these questions is - yes.
A delightful amalgam of cultural history and popular science, this book explores some of the most fascinating and controversial questions about language, culture and the human mind.
Free Home Delivery
on all orders
Pick up orders
from local bookshops
Reviews
Showing 1 - 3 of 3 reviews.
Review by fist
16/06/2015
This book deals mainly with the expression of colour and physical orientation in various languages and whether the perception, too, of these varies too for native speakers. Not super-easy, but highly interesting. I have now finally understood why Homer's sea was 'wine-red'. I still wonder, though, whether native speakers of languages with a subjonctif/conjunctivus view the world differently - and if so, how. Would look forward to another book by Guy Deutscher on this topic.
Review by petterw
16/06/2015
Does the language you speak affect the way you think? That´s what I call an intriguing and challenging premise for a book about languages and culture. Guy Deutcher hasn´t written a page turner, but it is hard not share his enthusiasm for his subject, although he at times uses a lot of pages to reach his conclusions. Along the way, however, I have learned a lot about languages that I didn´t know, about different unknown cultures, about Homer and The Ilyad, about colour perception, about the brain and what we don´t know about its workings, etc. etc. This book intrigued and challenged me, yes, but not necessesarily for the reasons the author primarily intended. But who cares - I enjoyed the ride.
Awesome little book. I'm not particularly interested in language as a subject, but this book touches on things like culture and perception as well as past research escapades. It's written in a very entertaining and engaging style too, which helps when you're digesting a lot of information. <br/><br/>I certainly didn't expect it to be as funny as it is. At one point Deutscher is talking about some dude's paper which tries to link philosophical tradition to grammar by attributing thought to syntax, and Deutscher mocks it thus: 'It might. It might also be attributable to the irregular shape of hot cross buns'. /<br/><br/>Seriously, he actually uses hot cross buns to mock and then adds something about hot cross buns not really being irregular (even if the theory is pants). It is a very interesting book, more so if you're not a linguist because I suspect you'd probably already know about a lot of what he's talking about, especially the bits about early Western research into language and the way it unsurprisingly focused on English as something complex and developed and all other languages as examples of the primitive gruntings of brown ape peoples. Me laugh very hard.<br/><br/>It almost reads like a little mystery in fact, and I do a love good whodunnit and how they dunnit and what they found at the end of doing it. Good read.