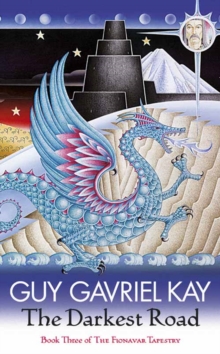 The Darkest Road : The Fionavar Tapestry Book Three
Paperback
Description
The concluding volume in Guy Gavriel Kay's stunning fantasy masterwork, now reissued with the beautiful original cover art by Martin Springett.The young heroes from our own world have gained power and maturity from their sufferings and adventures in Fionavar.
Now they must bring all the strength and wisdom they possess to the aid of the armies of Light in the ultimate battle against the evil of Rakoth Maugrim and the hordes of the Dark.On a ghost-ship the legendary Warrior, Arthur Pendragon, and Pwyll Twiceborn, Lord of the Summer Tree, sail to confront the Unraveller at last.
Meanwhile, Darien, the child within whom Light and Dark vie for supremacy, must walk the darkest road of any child of earth or stars.Guy Gavriel Kay's classic epic fantasy plays out on a truly grand scale, and has already been delighting fans of imaginative fiction for twenty years.
Information
Format: Paperback
Pages: 448 pages
Publisher: HarperCollins Publishers
Publication Date: 06/02/2006
Category: Fantasy
ISBN: 9780007217267
Free Home Delivery
on all orders
Pick up orders
from local bookshops
Reviews
Showing 1 - 1 of 1 reviews.
Review by shanaqui
16/06/2015
The final book of the Fionavar Tapestry is, unsurprisingly, the longest. After the long build up of the first two books, the war finally really gets underway. It's still very Lord of the Rings, with all the races joining up and wars and a lone person making his way into the heart of darkness, etc. In another way, it's completely not like Lord of the Rings at all. For one thing, not everyone lives. Boromir aside, most of the main characters in Lord of the Rings survive. Not so with Fionavar. Guy Gavriel Kay, as I have observed before, does not go gently. I kind of want to shake him and curse him, at the same time as admiring what he does with it, and how much he's made me care about the characters.<br/><br/>There are also some beautiful, fitting conclusions that make me very happy.<br/><br/>There are also some rather strange conclusions that baffle me. I think I've observed before that GGK is not so great with intentional romance. I don't feel Paul and Jaelle at all, for example -- I can see what he tries to do with them, and I understand why he thinks they'd be suited to each other in one way, but when it comes down to it, I really don't feel anything about them getting together. Same thing with the hint of romance between Kim and Dave (that follows through into Ysabel). Just... why? Where's it coming from? And yet something that could have been good, like Kim and Aileron -- don't tell me I was the only one? -- doesn't happen at all. These, however, are minor flaws.<br/><br/>Throughout the trilogy, GGK's writing is beautiful. Some of the scenes in this book are so very vivid that they stick in even my very-much-not-visual kind of brain. The image of Leyse floating down to the sea, for example. The death scenes are all lovely in a painful way, especially (for me) the one after the large urgach has been killed. They're like punches in the gut.<br/><br/>I still don't feel like my reviews have managed to capture how much I love this trilogy. Forget the flaws: I love it. I love the characters and the world, and the writing. If you can't get past the flaws, fair enough, but there is a real gem here, I think.<br/><br/>Reread in February 2010. Loved, more than ever, wept over, also probably more than ever. I was reluctant to read the last ten pages because that means my glorious weekend of visiting Fionavar is over. I'm sure I'll be back before too long, though. Fionavar is very rereadable, as I've proved this weekend. It's this, the fact that it breaks me anew every time and makes me love it more than ever, that gets these three books five stars. There are definitely flaws, things that jar, things that don't quite work -- I'm still utterly baffled at the romantic conclusions, and why the hell does Sharra disappear from the narrative the minute her romantic plot ends? -- but it draws me back in every single time.