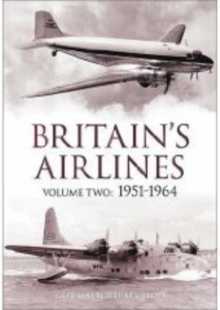 Britain's Airlines Volume Two : 1951-1964
Paperback / softback
Description
This is the second book in Guy-Halford Macleod's three-volume series on Britain's airlines.
The series hopes to redress the balance in considering particularly the independent airlines, the first truly low-cost airlines which have left an indelible mark on the industry, fashioning the template of low costs, targeted marketing, differential prices and cheap fares.
Volume 1 covered the shortest time-scale in the series, 1946-51.
It looks at plans for Nationalisation in WW2, post-war aviation policy, and the business opportunities of the era.
This volume looks at early post-war developments under Labour (nationalisation and private airlines); restrictions under the subsequent Tory govt; charter airlines under the Tories (Dan Air, Freddie Laker), Suez Crisis; Macmillan era, focus on manufacturing; amalgamations from 1960 Civil Aviation Act and Air Transport Licensing Board, giving way to licensing battles, disappointments, setbacks and new beginning as by 1964 Tory rule again came to an end.
Free Home Delivery
on all orders
Pick up orders
from local bookshops