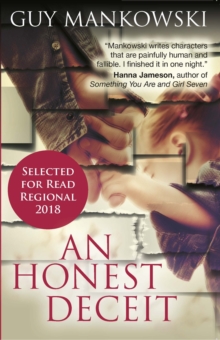 An Honest Deceit
Paperback / softback
Description
With An Honest Deceit, Guy Mankowski has invented a new sub-genre in crime fiction.
This novel would satisfy even the most discerning reader.
I was hooked. I loved it. --Ruth Dugdall, bestselling author of The Sacrificial Man and Nowhere GirlA mesmerising observation of speaking truth to power.
Reminded me of Murakami. Mankowski writes characters that are painfully human and fallible.
I finished it in one night. --Hanna Jameson, author of Something You Are and Girl SevenThe beauty of this book resides in his actuality, and in the way the author eases the reader into it by choosing to tell the story directly from Ben's perspective.
I was increasingly intrigued by the sharp descriptions of the characters that after a few pages take up a life of their own. --Daniella Quaglia, Huffington PostWhen Ben and Juliette's young daughter dies in a tragic accident on a school trip, they begin searching for answers.
But will they ever know the truth? What was the role of the teacher on the trip - and are the rumours about his past true?
As Ben and Juliette search for the truth and the pressure rises, their own secrets and motivations are revealed....
An Honest Deceit is an intelligent and gripping contemporary psychological thriller that questions not just the motives of others, but the real reasons for discovering the truth.
Information
Format: Paperback / softback
Pages: 288 pages
Publisher: Urbane Publications
Publication Date: 03/11/2016
ISBN: 9781911129974