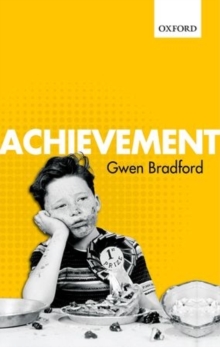 Description
From the magisterial to the mundane, achievements play a role in the best kind of human life, and many people think that they are of such importance that they are worth pursuing at the expense of serious sacrifices.
Yet for all that, no philosophers have devoted more than a few short passages to discerning what makes achievements valuable, or even what makes something an achievement to begin with.
Gwen Bradford presents the first systematic account of whatachievements are, and what it is about them that makes them worth doing.
It turns out that more things count as achievements than we might have thought, and that what makes them valuable isn't something we usually think of as good.
It turns out that difficulty, perhaps surprisingly, plays a central part incharacterizing achievements and their value: achievements are worth the effort.
But just what does it mean for something to be difficult, and why is it valuable?
A thorough analysis of the nature of difficulty is given, and ultimately, the best account of the value of achievements taps into perfectionist axiology.
But not just any perfectionist theory of value will do, and in this book we see a new perfectionist theory developed that succeeds in capturing the value of achievementbetter than its predecessors.
Information
Format: Hardback
Pages: 212 pages
Publisher: Oxford University Press
Publication Date: 22/01/2015
Category: Ethics & moral philosophy
ISBN: 9780198714026
Free Home Delivery
on all orders
Pick up orders
from local bookshops